Win 10 Winner Long Term Windows 7 Passes Vista, Opinions Differ
Microsoft's Windows 7 operating system now occupies about 14.8 percent of the operating system market, according to analytics company Janco, putting it ahead of Windows Vista.
Windows 7 Wins - Passes Vista, Opinions Differ - Microsoft's Windows 7 occupies 14.8 percent of the operating system market, according to analytics company Janco Associates, putting it ahead of Windows Vista. However, that data contrasts with findings by other companies, which contend that Windows 7 is still on track but has not yet passed Vista in the quest to win from long-reigning Windows XP the title of most-used operating system.
"The last OS that was accepted as quickly in the market was XP. Vista's market share has peaked and is in the process of being decommissioned in most enterprises," Victor Janulaitis, CEO of Janco, said in a May 3 statement. "The last six months have been a mixed bag for Microsoft. While they have good news on the OS front, their browser market share has fallen to the level that it was in 1998. "
However, other companies have said Windows 7's market share is somewhat lower. Net Applications, for example, pegs the operating system as owning 11.68 percent of the market, lagging behind Vista at 15.60 percent and XP at 63.41 percent.
What is indisputable, however, is that consumer purchases of Windows 7 are helping drive Microsoft's revenue higher after several quarters of being battered by the global recession. During an April 22 conference call, the company reported that its fiscal 2010 third-quarter earnings had climbed 6 percent, year over year, to $14.50 billion. A substantial portion of that was due to about 90 million Windows 7 licenses selling between its October 2009 release and March 2010.
Business spending on the operating system, however, has not matched the rate of consumer adoption. During the conference call, Peter Klein, Microsoft's chief financial officer, suggested that a "return in business hardware spending" seemed to be in the works, with businesses of all sizes opening their wallets for IT infrastructure after months or years of tightened budgets. Nonetheless, Microsoft seems to anticipate a slower overall rise in hardware and software spending by businesses in the foreseeable future.
"Windows 7 continues to be a growth engine, but we also saw strong growth in other areas like Bing search, Xbox Live and our emerging cloud services," Klein told reporters and analysts on the call. "Our record third-quarter revenue along with continued rigor on cost management resulted in exceptional EPS growth. "
The full Janco study can be found here.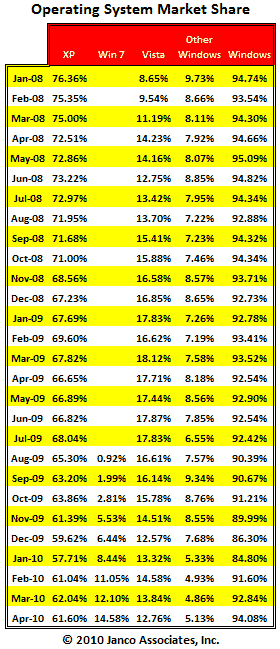 Microsoft controls almost 94% of the PC operating systems market with versions of Windows, including Windows XP, which still has 61.6% of the market 8.5 years after its release.
Apple's (AAPL) Macintosh operating system has 4.2% of the market, according to Janco.
While Microsoft has a hit with Windows 7, its Internet Explorer Web browser continues to lose ground. Internet Explorer is still No. 1 with 67.3% of the Web browser market in April, but that's down from 71.4% a year earlier, Janco says.
Rivals gaining market share include open source Firefox, with 17% share, and Google's (GOOG) Chrome browser, with 5.4% share.