Good News for IT Professionals
Mid-Year 2010 IT Salary Survey Released
The Mid-Year 2010 IT Salary Survey, just released, is good news for IT Professionals. The survey shows hiring is picking up in some sectors of the IT job market, salaries have stopped falling, and for selected positions there has been an increase in compensation - especially for CIOs. The CEO of Janco, Victor Janulaitis stated, "Even though many fear a second dip in the economy, CIOs in larger enterprises have been give the 'yellow light' to look ahead and fill positions that were left unfilled last year. "  Mr. Janulaitis added, "The same is not the case for mid-sized companies. They are much more cautious and concerned that the recovery will not be strong enough to support increased IT spending. "  Janco conducted some follow-up interviews of the participants and found that CIOs are starting their 2011 planning processes with the assumptions that the economy will improve in the first part of next year. Mr. Janulaitis said, "If that holds true them hiring and compensation should pick up. "
Summary Janco 12 month comparisons show the mean compensation (which includes bonuses) for all IT executive positions in large enterprises surveyed is $143,378 (a slight increase from $142,753) and $125,079 (a slight decrease from $126,031) in mid-sized enterprises. Overall compensation for all IT Professionals has shown a slight increase from $77,690 to $78,210; however the study shows that there was a 13% decrease in the number of employees receiving personal performance bonuses and a 7% decrease in those receiving enterprise based performance bonuses. Mr. Janulaitis said, "Bonuses are trailing indicators and should return as soon as the recovery takes hold. "
Janco has captured IT compensation data since 1996 and publishes its IT Salary Survey semi-annually. The IT Salary Survey is based on Janco's IT professionals' compensation database. Compensation benchmark hiring and salary ranges are established for each position surveyed. In analyzing the study data, the upper and lower quartiles are eliminated to determine the benchmark ranges. The benchmark ranges are then used to assess the alignment of a company's actual compensation to the marketplace for each job function. A summary of the most recent salary survey can be downloaded by visiting Janco IT Salary Survey at https://e-janco.com/salary.htm.
IT Median Salaries June 2009 vs. June 2010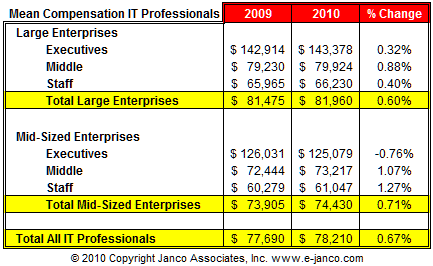 ---

NOTE: the table below is updated automatically with the latest IT salaries when a new salary survey is published. That happens every January and June. The historical data is available.
---
Latest Median IT Salaries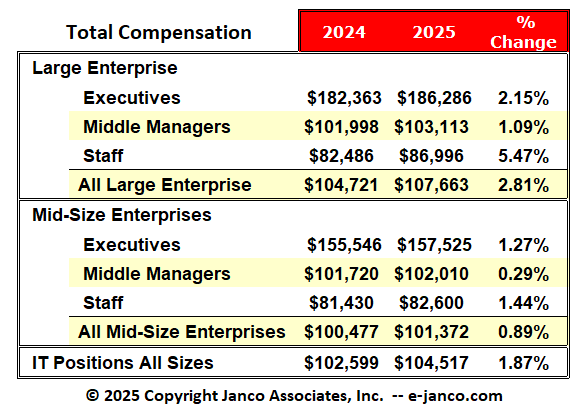 For the latest data go to the current IT Salary Survey
---