Index
Back
Next
Summary of Federally Mandated Record Retention Requirements Released
Record Management, Retention, and Destrution Policy Template Updated
August 9, 2010 - Park City, UT - Summary of Federally Mandated Record Retention Requirements Released - Janco Associates has just updated its federally mandated record retention requirements for employers. The list of requirements is available on its web sites www.e-janco.com and www.ejobdescription.com as a PDF document which can be printed. The CEO of Janco, Mr. Victor Janulaitis said, "We have decided to provide this document to everyone who needs it as a service to all employers. This set of requirements is part of Janco's standard Record Classification, Management, Retention, and Destruction policy Template.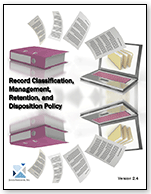 A record is essentially any material that contains information about your company's plans, results, policies or performance. In other words, anything about a company that can be represented with words or numbers can be considered a business record - and companies are now expected to retain and manage every one of those records, for several years or even permanently depending on the nature of the information. The need to manage potentially millions of records each year creates many new challenges for businesses, and especially for IT managers who must come up with rock-solid solutions to securely store and manage all this data.
Order Record Management Policy Download Selected Pages Version History
The Record Classification, Management, Retention, and Destruction policy, which is over 50 pages in length, is a detail template which can be utilized on day one to create a records management process. Included with the policy are forms for establishing the record management retention and destruction schedule and a full job description with responsibilities for the Manager Records Administration. It comes in MS WORD format and is easily modifiable. Included with the template is detail definition of record types and retention periods as well as citations for these requirements.
---
Backup and Backup Retention Policy

IT organizations of all sizes contend with a growing data footprint with more data to manage, protect and preserve for longer periods of time. Online primary storage, has focus a on fast low latency, reliable access to data while near-line secondary storage has a focus on low cost and high capacity. Long-term data retention requires a combination of ultra-low cost, good performance during storage and retrieval, and reduced footprint in terms of power, cooling, floor-space and economics (PCFE) - also known as a small green footprint - for inactive data.
Factors that CIOs and IT professionals need to consider for data retention include:
Business and regulatory requirements - regulatory compliance and data preservation
Economic and budgetary concerns - doing more with less
Data loss prevention and information protection - protect, preserve and serve
Environmental and business sustainment - green and economically efficient
Maximize IT resource effectiveness and return on investment (ROI)
Reduce total cost ownership (TCO) of IT resources and service delivery
The Backup and Backup Retention policy is an 11 page sample policy that is a complete policy which can be implemented immediately.
The document is provided in MS WORD format and is easily modified. This policy is included in the Disaster Recovery / Business Continuity Template.
Order Backup Policy Backup Policy Download Selected Pages
---
CIO IT Infrastructure Policy Bundle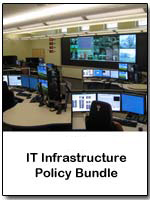 Janco has combine the policies that it has developed over time with some of the best IT organizations around the globe into a single package. With this bundle you get a PDF file that has all of the procedures in a single document that is over 210 pages long. It would take your staff months to develop these procedures from scratch. In addition you get a separate MS-Word document for each procedure which can easily be modified.
This bundle contains the following policies:
The policies have just been updated to comply with all mandated requirements and include electronic forms that can be Emailed, filled out completely on the computer, routed and stored electronically -- a total solution.
We have just completed a major update of most of the individual polices and almost all of the electronic forms.
CIO IT Infrastructure Policy Bundle (All of the policies below are included as individual MS Word files and a single PDF file. Electronic forms are all individual documents that are easily modifiable)