Index
Back
Next
Business Intelligence: IT Executive Salaries
Economic climate may be better for IT Managers
Business Intelligence: IT Executive Salaries - Still longing for the boom years? The ongoing recession has taught us that the good days probably aren't coming back for a while, but that doesn't mean the boses's paycheck is suffering. For a solid perspective on the current state of salaries for IT executives, IT management consulting firm Janco Associates, based in Park City, Utah, recently compiled and released its 2010 Mid-Year Information Technology Compensation Study. Janco Associates (www.e-janco.com) surveyed more than 220 large companies and about 700 midsize companies to gather the current going rates for numerous IT positions, compared with pre-recession salaries (using January 2007 as a benchmark). Some good news: total mean compensation for IT professionals has risen. But that's not necessarily the case for IT executives at small and midsize companies, whose pay is still soft. The following presentation shows the current salaries for nine top IT executive positions, compared with pre-recession highs. See how paychecks at your company stack up to today's compensation rates.
Study Group
The study group included executives, middle managers, and staff at large enterprises as well as their counterparts at midsized enterprises. Of these groups, executives at midsized enterprises were the only ones to have experienced a drop in salary. The rest saw an increase. Victor Janulaitis, CEO of Janco, says, "Smaller companies have management which typically are in-tune with the operations of the enterprise, and management is often paid with an eye toward company earnings performance vs. demand for particular skill sets," which could explain the drop in average salaries for executives at midsized organizations.

CIOs fared the best. Their mean compensation in large enterprises increased 7.52% to $181,533. Salaries for CIOs in midsized enterprises rose 3.73% to $169,303. "As productivity has improved, CIOs have been given much of the credit and they are getting more bonuses based on job performance," Janulaitis says. But these increases have yet to be passed down in the organization.

In spite of the increase in salaries, the news is not all good. "The recession has cut IT to the bone, and there is no clear sign that IT jobs will regain the luster they had before the recession," Janulaitis says. IT is "standing still" in small and medium-sized enterprises, he says, and it will be difficult for CEOs to "see IT as something other than a cost center. "
---

NOTE: the table below is updated automatically with the latest IT salaries when a new salary survey is published. That happens every January and June. The historical data is available.
---
Latest Median IT Salaries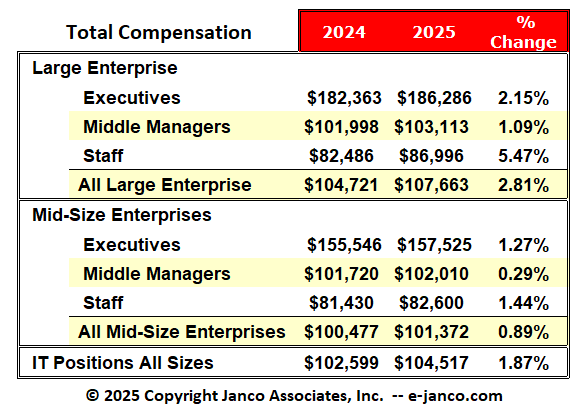 For the latest data go to the current IT Salary Survey
---
Order Salary Survey Download Sample Provide Data