Index
Back
Next
IT Hiring Picture Mixed as Economy Flounders
Janco to release IT Salary Survey soon
IT Hiring Picture Mixed as Economy Flounders - A survey of various IT sector hiring forecasts for 2011 show a mixed bag, with companies planning to bring in more people but still relying, at least in part, on contract or temporary workers rather than making permanent hires. The technology consulting firm Janco Associates reports a slight increase in hiring in some IT areas, but not enough to offset the job losses in IT during the recession. But a survey of hiring managers and recruiters by the tech employment Web site Dice.com reveals six in 10 plan to hire workers in the coming year, although it does not distinguish between permanent and temporary hires.
IT Median Salaries Year to Year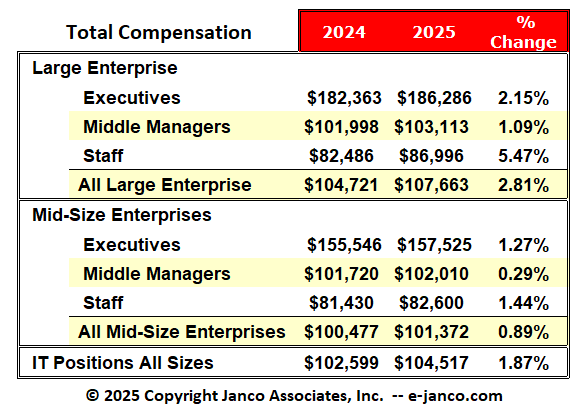 Updated with the latest data
Order Salary Survey Download Sample Provide Data
The U.S. IT industry has grown faster so far in 2010 than in 2009 and twice as fast as the economy as a whole, reports as major research firm, which forecasts a 7.4 percent increase in IT spending in 2011. But an increase in spending by customers doesn't necessarily mean a commensurate increase in hiring.
To be sure, some companies are making some new permanent hires, says the co-founder and chief research officer of Foote Partners, an IT consulting firm, "but it's clear that demand for full-time workers outside the services sector in particular has not gained the kind of momentum that many analysts and pundits had been predicting this year. "
And Janco Associates says that, while it has detected hiring increases in systems design and in various IT services categories, the job gains are still not enough to offset the losses from earlier this year. The firm cites U.S. Bureau of Labor Statistics figures that show an increase of 4,400 to 4,800 IT jobs in November, but that is down substantially from the 12,000 jobs created in October. There have also been months in which net job losses were reported, such as March's 6,800 jobs decline.
But a more optimistic forecast comes from the CEO of Challenger, Gray & Christmas, an outplacement services firm that also tracks employment trends. Challenger points to evidence of increased IT spending in 2010 after the recession period of late-2008 through 2009. As enterprises continue spending, IT manufacturing jobs are likely to increase along with IT jobs within enterprises.
"Perhaps some companies held off on IT spending in 2010 and sat on their costs," Challenger says. "But they actually have a lot of cash on their balance sheets, so a lot of them are reinvesting in themselves and building muscle. "

While Challenger acknowledges that hiring could be a combination of temporary and permanent hires, Dice.com believes the balance is shifting in favor of permanent hiring. It its hiring survey, Dice did not ask recruiters or hiring managers if they're hiring temporary or permanent workers, but 60 percent of the jobs posted on its site today are for permanent positions, says a senior vice president, North America, for parent company Dice Holdings.

"We've seen the trend that when hiring ramps up--it begins with contract, and then full-time gradually follows," which is typical of recession recovery periods, Silver said in an e-mail. "[Today] the gap between hiring for temporary labor and permanent tech professionals continues to grow. "
Order Salary Survey Download Sample Provide Data
The December 2010 U.S. Department of Labor National Employment Report, showed a slight increase for IT-related jobs in November, following a gain of jobs in September and October. . Janco tracks ups and downs in employment in five key job categories - IT services, computer systems design, data processing and telecommunications. Data for the past 12 months shows a minor gain in jobs for Information Services and computer systems design and related services.