Risk Assessment IT Business Impact Questionnaire Released
Risk Assessment IT Business Impact Questionnaire released. Security Manual Template and Disaster Recovery template updated to include questionnaire.
Park City, UT - Janco has just released an updated version of its Business and IT Impact questionnaire. This is the tool of choice for over 2,500 enterprises world-wide in their risk assessment processes. The CEO of Janco, Victor Janulaitis said, "We have updated our questionnaire to specifically include references for COBIT, PCI-DSS and mandated required for states like New York, California, and Massachusetts.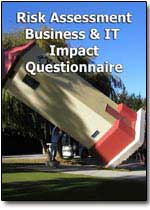 Janulaitis added, "Understanding how a business works -- which processes must interlock and be continuously available to sell, produce and support its clients -- is the foremost goal of a business impact analysis. The questionnaire identifies: the most critical business processes across an entire enterprise; the maximum outage that a business process can sustain before it severely impacts the well-being of your company; the financial, productivity and personal impacts of an extended business disruption; the short-term business impacts and permanent business losses; the priority of business process recovery; and identify the vital records necessary to protect business operations so they can to resume successfully. "
In addition Janco has updated it Disaster Recovery Business Continuity and Security Manual templates to include the latest versions of this questionnaire. The areas covered by the questionnaire include: facilities, business functions, applications, compliance, system of internal controls, environment, resources, and record management. A full copy of the table of contents and sample pages are available for download
The template is available for purchase and electronic delivery on Janco's web site https://e-janco.com. The questionnaire is available in PDF format as well as MS-Word. The CEO of Janco added, "Our clients are our best marketing resource. Once they use any of our IT Infrastructure products they typically come back for us to help them fill in with our proven policies and procedures.
Order BIA Questionnaire Download Selected Pages
Contents of the Security Manual Template
The IT Security Manual Template provides CIOs, CSOs, and IT Managers all of the essential materials with real live use-able text for a complete security manual. Detailed language addressing more than a dozen security topics is included in a 260 plus page Microsoft Word document, which you can modify as much or as little as you need to fit your business requirements.
The template includes sections on critical topics like:
Risk analysis, Staff member roles, Physical security, Electronic Communication (email / SmartPhones), Blogs and Personal Web Sites, Facility design, construction and operations, Media and documentation, Data and software security, Network security, Internet and IT contingency planning, Insurance, Outsourced services, Waiver procedures, Employee Termination Procedures and Form, Incident reporting procedures, Access control guidelines, PCI DSS Audit Program as a separate document, Massachusetts Compliance Check List, Security Compliance Check List, and update service