Index
Back
Next
Reading the IT Employment Tea Leaves
Reading the IT Employment Tea Leaves - Janco Associates and eJobdescription.com have just released their 160 page IT salary survey for January 2011. The report shows minuscule average compensation increases of .35%, which puts IT pros back to where they were in 2008. These fractional percentages line up smartly with the overall IT employment growth of .17% between 2009 &2010. Also, IT professionals are being asked to shoulder more health care costs. Companies are compensating for this increase by allowing employees flexible schedules and other low cost options.
According to the Janco survey, the IT outsourcing trend has peaked and layoffs have mostly subsided due to the last several years of relentless cost cutting. Organizations are now looking to bring some IT operations back in-house due to contract management and due diligence based risks. These operations have a high potential to be staffed by contract employees based on a report by Foote Partners. As mentioned in the Foote report, Ninety-Five percent of IT jobs created since March 2010 have been for contractor and consulting services.
December 2010 saw a gain of 9,600 IT jobs for the month according to the Department of Labor Bureau of Statistics January 2011 report. However, looking at the broader job market, we are seeing a bump in initial claims of unemployment to 445,000 this week. This is a 35,000 increase from last week's numbers.
All this data can be boiled down to what most IT professionals already know. The job market IT workers face over the next year will be soft, with little growth. Businesses will emphasize hiring contract employees for specific projects to ensure labor costs are contained.
It is past time to differentiate yourself from your peers to ensure you stand out from the other millions of IT employees.
---

NOTE: the table below is updated automatically with the latest IT salaries when a new salary survey is published. That happens every January and June. The historical data is available.
---
Latest Median IT Salaries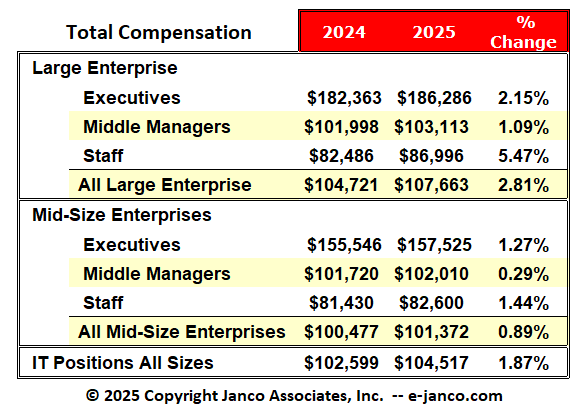 For the latest data go to the current IT Salary Survey
---
Employment Trends
---
Updated with the latest IT Job Market statistics
Historic IT Job Market Growth Trend


For current analysis of this data, go IT Job Market Size to see the historic job market growth trend data
Data as of May 2021
---