Index
Back
Next
Disaster Recovery Template Just Got Better

Janco's Disaster Recovery Template Version 6.0 provides more tools and easier implementation of disaster recovery and business continuity plans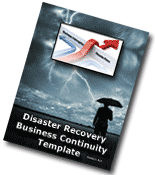 Disaster Recovery Template Just Got Better - Janco Associates has announced the release of version 6.0 of the leading industry standard Disaster Recovery Business Continuity Template. The 6.0 release offers some of the most requested updates as well as provides several new capabilities such as a complete incident and media communication plan with a definition of best practices for news conferences and media relations. Victor Janulaitis the CEO of Janco Associates, Inc. said, "Over 3,000 companies in over 65 countries have selected the Janco Disaster Recovery Business Continuity Template as their product of choice. " He added, "This is the fourth update of the template in the last year. We continue to update all of our products to meet both management requests and mandated requirements. "
Janulaitis said that many of the best features for users are the best practices that are clearly defined within the product. "We continue to review the recovery efforts of companies around the globe as they recover from various types of disasters and add components to our template that can be used by enterprises of all sizes. "
The template is delivered electronically and comes as an easily modifiable Microsoft WORD file. The template is over 200 pages long and includes everything needed to customize the Disaster Recovery Plan to fit your organization's specific requirements.
The document includes proven written text and examples. Included are: Business Impact Analysis - including a sample impact matrix ;  Organization Responsibilities pre and post disaster - DRP checklist; Backup Strategy for Data Centers, Departmental File Servers, Wireless Network servers, Data at Outsourced Sites, Desktops (In office and "at home"), Laptops and PDA's; Recovery Strategy including approach, escalation plan process and decision points;  Disaster Recovery Procedures in a check list format; Incident/Media Communication Plan; Plan Administration Process; Technical Appendix including definition of necessary phone numbers and contact points; Job Description for Disaster Recovery Manager (3 pages long) - entire disaster recovery team job descriptions are available; and,  Work Plan to modify and implement the template - included is a list of deliverables for each task.