Index
Back
Next
IT Salary Levels: Pros vs. Superstars

IT Pros vs. Superstars. If you've worked in IT for any length of time, you know that IT salary levels can vary wildly between staffers with the same job title. As in any industry, in the tech sector factors like experience, specialized knowledge, and overall talent can - and often do - dramatically affect paycheck size.
In short, the difference in salary levels between a star IT performer and a regular, reasonably talented professional can be hefty. As you'll see on the following pages, those IT experts in the top 25 percent - the top quartile - command a far more robust paycheck than their average (but still highly competent) tech colleagues.
For instance, the mean salary for all data warehouse managers in 2011 is $61, 452. Compare that to the salary for the data warehouse managers in the top quartile: $90,897.
Or, take a look at managers of Internet systems. Their mean salary for 2011 is $79,671. In contrast, the "star" professionals in this position earn an impressive $114,051.
Surveying the entire industry, the average IT salary in 2011 (at mid-sized companies) is $77,873. Those pros in the top 25 percent bring home an average of $112,062.
The fortunate top 25 percent are not only more skilled than the average IT pro. In many cases they have more aggressively sought higher paying positions by job-hopping on a regular basis. (Of course job-hopping has been far tougher as the job market has languished. ) Additionally, these high wage earners typically started their career at a younger age, in a better first job, and had a more prestigious degree to propel them.
Yet regardless of those factors, the real point is that IT salary levels are negotiable. As you peruse the following salary figures, realize that no matter what your current salary, you can boost it. With added experience, more skills - perhaps an IT certification - and some judicious job switching, your paycheck can rise accordingly.
IT Median Salaries Current Year vs. Prior Year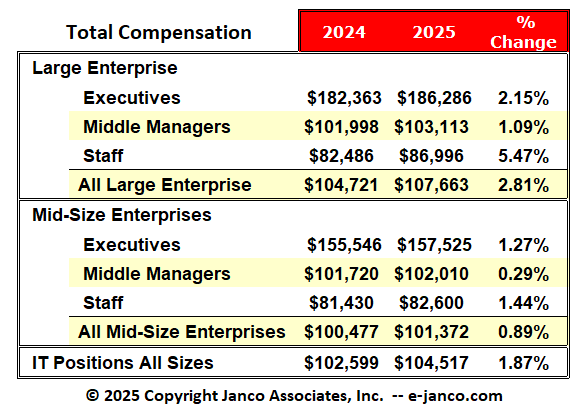 Updated with the latest data
If you do not want to purchase the full salary study, you can get just the data for a particular city for a fraction of the cost of the full study. Just click here to see all the cities covered.
Historical Data - Executives Large Enterprises