Index
Back
Next
Review of disaster recovery and business continuity plan activations reveals common failures
Review of disaster recovery and business continuity plan activations reveals common failures - Janco Associates has just completed a review of 253 disaster recovery and business continuity plan activations and classified the shortcomings of those plans.
The most common issue, occurring in 62 percent of all recovery plans were errors in the plans. This often was due to the plan not being kept up to date (47 percent), the unavailability or inaccurate passwords (34 percent), and failure of the initial restoration process (13 percent).
Additional reasons for failures were: insufficient backup power - 22 percent; communications not in place - 18 percent; personnel not adequately trained - 17 percent; system recovery priorities not identified - 14 percent; recovery processes not sufficiently documented - 13 percent; and disruption event not identified quickly enough and activation was late - 12 percent.
Janco also found the there was a significant failure of the restoration process which did not function as expected. Most of those shortcomings were classified in one of the other categories.
The CEO of Janco, Victor Janulaitis said: "We found that only 47 percent of the plans were completely successful. Even though none of the activations reviewed resulted in a complete failure, we found that there were a number of shortcomings that could be corrected. "
Janulaitis added: "We were surprised to see a number SMB companies have moved their backup processes to the cloud. We feel this is a positive step; however we still believe that some physical media needs to be retained. "
Why Disaster Recovery Business Continuity Plans fail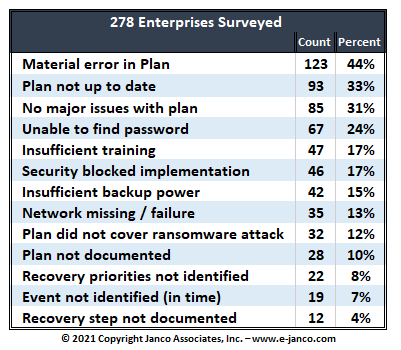 View the latest data on why DR/BC plans fail
Janco publishes a Disaster Recovery Business Continuity Template. Janulaitis said that many of the industry's best practices that are clearly defined within the template. "We continue to review efforts of companies around the globe as they recover from various types of disasters and add components to our template that can be used by enterprises of all sizes. " He added, "Over 3,000 companies in over 65 countries have selected Janco's Disaster Recovery Business Continuity Template as their product of choice. "
The template is delivered electronically and comes as an easily modifiable Microsoft WORD file. The template is over 220 pages long and includes everything needed to customize the Disaster Recovery Plan to fit an organization's specific requirements.
The template contains proven written text and examples. Included are: business impact analysis - including a sample impact matrix;  organization responsibilities pre and post disaster; DRP checklists; backup strategy for data centers, departmental file servers, wireless network servers, data at outsourced sites, desktops (in office and "at home"), laptops and PDA's; recovery strategy including approach, escalation plan process and decision points;  disaster recovery procedures in a check list format; incident/media communication plan; plan for administration processes; a technical appendix including definition of necessary phone numbers and contact points; job description for disaster recovery manager (3 pages) - entire disaster recovery team job descriptions are available; and,  work plan to modify and implement the template with a list of deliverables for each task.