CIO and IT Manager Tools - Available for Immediate download
Janco, with its clients, has created a set of Infrastructure tools that every CIO and IT organization needs. With all of the newly mandated requirements, why create from these policies and tools from scratch. Janco has just updated all of these tools to reflect the latest mandated requirements and technological implications.
DRP / BCP Template


Industry standard for Disaster Recovery and Business Continuity. Over 3,000 enterprises world-wide have chosen this tool.



Security Template


The IT Security Manual Template provides all the essential sections of a complete security manual and walks you through the creation of each step.

IT Job Descriptions


Job descriptions have been created and just updated for every position from CIO to to Computer Operator


Cloud Management


Cloud Template provides EVERYTHING that is needed to select an outsourcer, enter into an agreement, and manage the relationship

IT Infrastructure


Defining Your Optimal IT Infrastructure is a critical task that can no longer wait with all of the mandated changes and service requirements..

Salary Survey


The industry standard for IT compensation answers question like - Are you paying too much or too little to your IT staff? Are you earning what you're worth?
Janco's tools are your solution to improved productivity
Why re-invent the wheel when these tools provide you with the industry standard best practices in a way that can make your standout as a manager and leader who can get things done is quickly and cost effectively.
---
(updated 8/2018)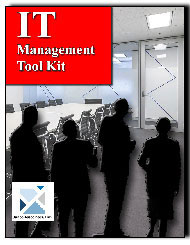 CIOs and CTOs are in a constantly evolving field, however world class CIOs and CTOs focus on three areas to help them manage more effectively. They are:
Technology
People
Infrastructure
This toolkit bundle is a collection of the latest CIO's tools which have proven to be the most productive.
Download Table of Contents CIO Management Kit Order CIO Management Kit
Security - Privacy - Compliance Management Issues
When dealing with cloud data and/or data that is accessed via the Internet, the enterprise must be aware of all mandated requirements for the location of the users who's data this is, the location where the cloud processing occurs, and the the location of the facilities and individuals who access that data. Each location may have different compliance requirement.
This offering is significantly impacted by mandated security and privacy requirements like GDPR (General Data Protection Regulation) and the CCPA (California Privacy Act). As privacy requirements are added, we will update this offering and all supporting policies / templates to be in full compliance.