Disaster Recovery Business Continuity Job Description Bundle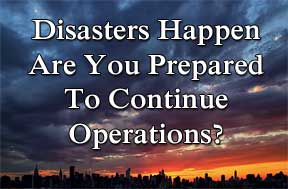 Disaster Recovery Business Continuity Team
Most organization have a DRP and/or BCP Plan in place. The one area that there is lacking is the definition of responsibilities. To that end, Janco has created a unique set of job descriptions that define specific roles and responsibilities for individuals within the enterprise.
The twenty-two (22) job descriptions realated to disaster recovery and business continuity planning are as follow:
Chief Information Officer
Chief Compliance Officer
Chief Digital Officer
Chief Experience Officer
Chief Mobility Officer
Chief Security Officer
VP Strategy and Architecture
Digital Brand Manager
Director Disaster Recovery and Business Continuity
Director e-Commerce
Director Media Communications

Manager Database
Manager Disaster Recovery and Business Continuity
Manager Disaster Recovery
Manager Media Library Support
Manager Record Administration
Manager Site Management
Manager Social Networking
Capacity Planning Supervisor
Disaster Recovery Coordinator
Disaster Recovery - Special Projects
Pandemic Coordinator
These job descriptions can be ordered as a set or as part of the 324 IT Job Descriptions offering.
Order DR/BC Team Job Descriptions
---
Options you have to order the BCP Template include