Core Disaster Recovery Business Continuity Assessment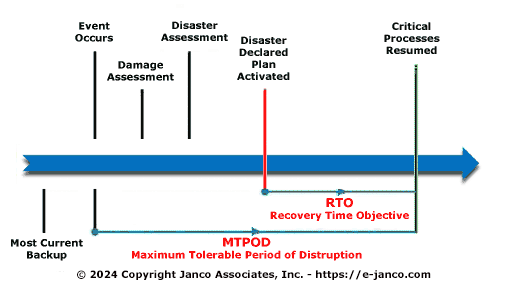 Many businesses have never tested the recovery process in the event of a server or site failure

With business continuity a core component of risk management, a well-rehearsed plan lays the foundation for confidence that IT systems will work when needed most.
Terms like Maximum Tolerable Period of Disruption (MTPOD), recovery time objective (RTO) and recovery point objective (RPO) are often used, but what do they really mean? In practical terms, recovery time objective is the duration until a business can return to normal after the failure of a server or key computer site, and recovery point objective is the place in the transaction flow where the business resumes.
Recovery Time Objective (RTO) - How long can your business afford to be down?
Recovery Point Objective (RPO) - How often do you backup? How much data can your business afford to lose in the event of a disaster?
Level of Service (LOS) - What are your business' critical servers and essential units that cannot be disrupted?
Implementing a disaster recovery plan includes documenting the process to bring a server or group of servers back online in the event of failure. An overlooked step in the process often flows from the assumption that an IT expert is always readily available. Due to the inherent unpredictability of a disaster, the IT staff that your company relies on may take time to find and start action. Considering this human latency when developing the recovery plan naturally highlights any undesirable complexity in the systems and processes, and the need to support recovery even with minimal IT expertise on hand.
Core disaster recovery and business assessment questions
Could a newly hired IT professional quickly handle the situation?
Could a remote IT engineer talk a novice through the procedures?
Could a smart phone, tablet, or remote laptop provide all needed access to bring your business back online?
Could the disaster recovery business continuity plan be executed within the RTO and RPO requirements?
In addition to reviewing your disaster recovery and business continuity plan your team needs to define a realistic picture of their expectations. You could spend too much time thinking of costly alternatives to cover aspects of daily operations that may not be critical. When doing so, ask yourself and your executive team:
Specifically, what level of protection is necessary (RTO, RPO, LOS)?
Which aspects of your company's business must stay operational?
All of this is defined in Janco's "Disaster Recovery - Business Continuity Template".
---
IT Job Descriptions Meet Compliance Requirements

ISO (including 27031), HIPAA, Sarbanes-Oxley, PCI-DSS, California SB 1386, and Cobit requirements are meet by Internet and IT Position Descriptions. . .
The Internet and IT Position Descriptions HandiGuide™ was completed in and is over 900 plus pages; which includes sample organization charts, a job progression matrix, and 243 Internet and IT job descriptions. The book also addresses Fair Labor Standards, the ADA, and is in a new easier to read format. To see the what has changed go to our version history.
You can purchase either the book with all of the job descriptions in PDF format or the book in PDF format and the job descriptions in MS WORD format, or just the job description in MS WORD format.
Order IT Job Description HandiGuide Sample Description Download TOC
---
Record Classification, Management, Retention, and Destruction policy Critical for Security


Template includes citation for federal and selected state record retention requirements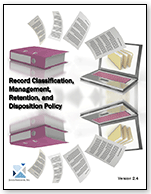 All business are required by law to keep confidential client information, as well as employee or company data for a minimum amount of time. There are numerous business records that should be held on to for a minimum of seven years, which can include employee agreements, business loan documentation, litigation records, as well as general expense reports and records including overhead expenses and professional consultation fees.
Other documents may be kept for shorter, longer or an indefinite period of time and it's important to know what legal requirements are enforced for your industry to not only stay compliant, but to also dispose of documents you may no longer need. Regularly maintaining filing cabinets and securely disposing of old documents can help minimize risk of sensitive information falling into the wrong hands. The risks of keeping old documents containing sensitive data can be high - resulting in identity theft, fraud and potential financial loss or reputation damage.
Read On Order Record Management Policy Download Selected Pages
---