---

CIOs and IT managers -- times are changing - are you prepared?

---
CIOs and IT managers -- times are changing - are you prepared?

With the focus being on productivity and all of the new mandated requirements you really do not want to be caught on the short end of a compliance issue.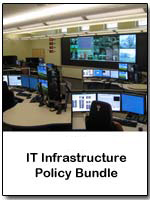 Janco has assembled the policies that it has developed over time with some of the best IT organizations around the globe into a single package. With this bundle you get a PDF file that has all of the procedures in a single document that is over 300 pages long. In addition you get a separate MS-Word document for each procedure which can easily be modified.

There are 14 must have policies in the bundle. They are:

Backup and Backup Retention Policy
Blog and Personal Web Site Policy
BYOD Policy Template
Incident Communication Plan Policy
Internet, e-Mail, Social Networking, Mobile Device, Electronic Communications, and Record Retention Policy
Mobile Device Access and Use Policy
Patch Management Policy
Outsourcing Policy
Record Classification, Management, Retention, and Destruction policy
Sensitive Information Policy
Service Level Agreement (SLA) Policy Template with Metrics
Social Networking Policy
Telecommuting Policy
Travel and Off-Site Meeting Policy
In addition the bundle comes with over 50 Electronic Forms - The electronic forms that Janco has developed can be e-mailed to users, completed on the computer, and then stored electronically. Forms comply with all mandated requirements for electronic records. A few of the forms are:
Blog Policy Compliance Agreement
BYOD Access and Use Agreement
Company Asset Employee Control Log
Email Employee Agreement
Internet Access Request
Internet and Electronic Communication Employee Agreement
Internet Use Approval
Mobile Device Access and Use Agreement
Sensitive Information Policy Compliance
Security Access Application
Record Retention and destruction schedule
Read on. . .