CIO Priorities are fluid
Janco's Infrastructure, Strategy and Charter addresses the top 10 priorities of CIOs in companies of all sizes
CIO Priorities are fluid - CIOs and CTOs are at a crossroad. The role of each is inevitably changing, because of multiple drivers of information technology (IT). There are:
Disaffection with IT from the Internet bust, the technology capital spending overhang, the popular assertion that IT is now irrelevant in discussions of competitive advantage, and the hysteria about IT jobs moving overseas.
IT is gaining renewed interest as:

The global economy seems to be recovering,
Business executives are looking for innovation
The regulatory environment has put far more emphasis on the timeliness, completeness, and accuracy of corporate information.
Technology is playing a foundational role in virtually every product and service.
Order IT Infrastructure Tools

Download Selected Pages
These factors are driving the priorities. In a recent analysis of over 120 CIOs in Mid-sized companies, Janco found the most of the issues that CIOs are facing have to do with infrastructure.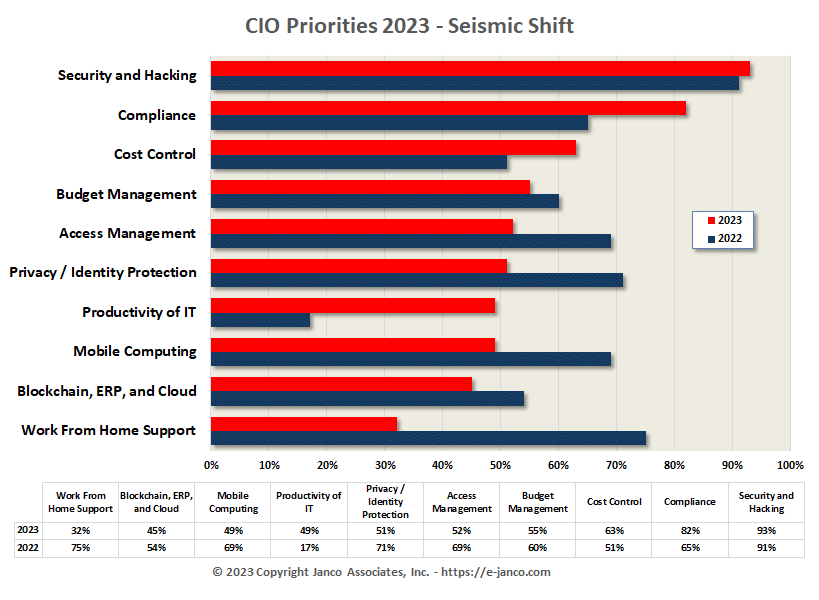 To address all of these priorities, Janco has created a kit for CIOs which contains the strategy, full policies, electronic forms, and job descriptions. This is a MUST HAVE kit for all CIOs and especially for individuals who have just moved into that role.
CIO Strategy and Policies Bundles