Best Practices to Implement Omni Commerce -- the Wave of the Future
Business to Business systems are now moving towards the new e-commerce paradigm  - an ERP that covers both internal and external  applications
SmartPhones and tablets are changing the way the way people and business browse the Internet, shop, provide service and communicate with suppliers, customers and associates. No longer can organizations be content with one platform for the Internet and the other for internal systems.
Both internal and external "customers" are users and they are demanding more.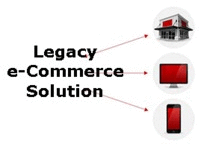 Order Omni Commerce Planning Toolkit

Download Selected Pages Omni Commerce Strategy
The Internet commerce function should be a top priority have a business "champion" who is pushing for it - not just the IT pros in the enterprise
Create an infrastructure strategy that addresses both traditional procedural solutions and ones that leverage cloud based application. You do not have to invent - utilize the work of others. (See  IT Governance Infrastructure, Strategy, and Charter Template -- https://e-janco.com/infrastructure.html)

Authenticity: The same fundamental set of core values around the products and/or services and what the company stands for in a brick-and-mortar context should be integrated throughout the Online presence.
Consistency: The user experience should be aligned with the overall brand, to have the same 'look and feel' between Internet platforms and brick and mortar assets.
Transparency: Communications with users at all levels must be consistent across Internet and brick-and-mortar platforms

Prototype the design of the overall experience to test the user-experience and minimize the cost of new development that may not produce the results you want.
Move quickly ad be "first" to the market - create a competitive advantage. A perfect solution is not required, rather one that works in you environment and meets all of the mandated compliance requirements.
Create a social media presence for the company and its products and/or services
Focus on the "customer" both internal and external, they are the ones will benefit the most from a robust granular solution.
Utilize social media sign-in to minimize password fatigue. Surveys have found that more than 75% of all shopping cart activity is abandoned at the sign-in step
Design content and site flow to be device independent. The user may start on a desktop; move to a SmartPhone; and then complete the activity on a tablet.
Move away for "3 column" design to panel design. Design with "large" images as the focus point so that the user experience is improved.
Display products and services in natural settings - not as stand-alone images. This helps to provide reference points for the user looking at the product.
Omni Commerce Strategic Planning Toolkit
Whether your organization is a retailer, or a manufacturer or distributor, customers and users want one solution: A consistent, compelling experience that crosses all platforms no matter if they in a brick and mortar faculty, on-line, or through social or mobile channels.
The Omni Commerce Strategic Planning Toolkits helps to create an environment in which an enterprise can build an agile customer/user-centric brand solution
Omni Commerce Strategic Planning Toolkit Contains:
IT Governance Infrastructure, Strategy, and Charter Template
Full set of IT Infrastructure Electronic Forms
BYOD Policy Template
Social Networking Policy Template


Omni Commerce Strategic Planning Toolkit - Silver Edition Contains:
IT Governance Infrastructure, Strategy, and Charter Template
Full set of IT Infrastructure Electronic Forms
Full Set if IT Infrastructure Policies
Includes policies contained in the standard version


Omni Commerce Strategic Planning Toolkit - Gold Edition Contains:
IT Governance Infrastructure, Strategy, and Charter Template
Full set of IT Infrastructure Electronic Forms
Full Set if IT Infrastructure Policies
eCommerce Job Description Bundle -- 23 full job descriptions
Order Omni Commerce Planning Toolkit

Download Selected Pages Omni Commerce Strategy