Shifting New Technology Priorities for CIO in 2024 Budgets
New Technology focus of C-level executives is impacting 2024 -2027 budgets
Budgeting is in full swing at most enterprises in the US. Interestingly the focus of CIOs and CFOs is altered and there are big losers and big gainers in allocations for in the budgets for new technologies in 2024. Janco interviewed over 270 C- Level executives including CIOs, CTOs, CX0s, and CFOs.
We found the greatest positive shifts in budget expenditures for new technologies to be in
Artificial Intelligence (+6%) – pure research
Blockchain and cyber currency (+9%) – tied closely with e-Commerce
5G Solutions (+10%) – Tied closely with e-Commerce
Extended and Mixed Reality – tied closely with AI (12%)
3D Modeling/forecasting – tied closely with AI and e-Commerce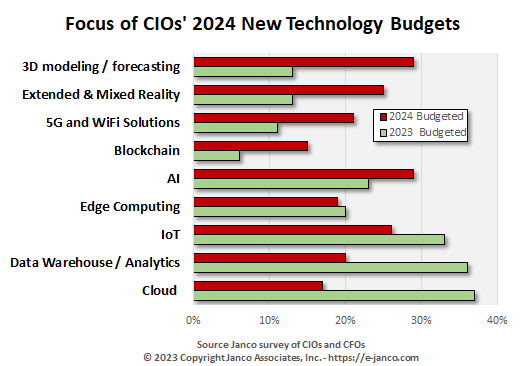 At the same time, new initiatives have slowed several technologies that are deemed as mature.
Cloud (-20%) – consolidation of cloud solutions used is focused – cost containment focus
Data Warehouse / Analysis (-16%) – refinement of tools used – ROI justification focus
IoT (-7%) – evolution to a legacy technology that needs to be upgraded to 5G
Edge Computing (-1%) – shifted expenditures to AI and e-Commerce
Issues Associated with the Implementation of Budgets
The C-Level executives we interviewed told us they faced three primary issues in the near term to effectively implement the new budget priorities. They are staffing with the required skills and knowledge; processes for integrating the new technologies into the existing application profiles of their enterprises; and, the lack of information on the total cost of implementation in terms of dollars and infrastructure change.
Most of these executives have a major concern about the state of the economy and what impact that will have on the operation of their enterprises. With staffing as a main concern and the long lead times associated with getting the right individuals in place, how can they guarantee that the budgets created today will stay in force for the balance of 2024?
Modifying operational infrastructure is difficult at best. There has to be a buy-in from operational managers to conduct business in a new way for any new technology to be successful. AI is driving a shift towards omnicommerce away from legacy and "brick and mortar" solutions. CIOs and CXOs are major change agents and cannot afford to have missed steps.
Omni-commerce
Omni-commerce is an integrated "all-channel" approach to sales and marketing that seeks to deliver consistent, seamless, personalized experiences to customers. Omni-Commerce arose as a way to harmonize sales and marketing efforts. Those efforts were often fragmented and fell short of delivering on evolving customer needs. Omni commerce simply extends multichannel concepts to focus on integration.
The emergence of Omni-commerce as a philosophy reflects the rising importance of payments as a cornerstone in each customer journey. Omni commerce is about organizing your retail strategy toward the goal of creating simple personalized shopping experiences that are favored by customers—and improving the bottom line.
Leadership begins with having a strategy in place that works and then having the right people in place to create and implement them. Factors to consider include
Platform consistency. Here's where the rubber meets the road in an omni-channel world. Will the customer/user have the same experience on the web, in the brick-and-mortar facility, and on their mobile devices? Accomplish this by breaking down internal silos and centralizing operations, people, and product information.
Implement a flexible platform. The technology platform is critical to a successful omni-commerce strategy. Is it scalable? Is it designed to promote a rich, immersive experience? Making the right investment in the right platform can also help support a best-in-class content strategy.
Keep emerging platforms in mind. Mobile and social platforms should be part of successful experience-driven omnicommerce if executed strategically. Mine available data to see which mobile channels your customers/users use most, and embrace them. In addition, social engagement requires a commitment to authenticity. Brands must be prepared to drive relevant dialog with consumers and users in the social world.
Ensure IT and marketing agility. Look for out-of-the-box adaptive components that speed up implementation time for new and updated sites. Look for platforms that include reporting, metrics, merchandising, and marketing tools that enable enterprises to perform rapid and flexible customization of product pages, shopping carts, and checkout options based on target visitor segmentation and evolving merchandising strategies.
Order Omni Commerce Planning Toolkit

Download Selected Pages Omni Commerce Strategy
Security Risks
Cybersecurity has to be addressed as more is at risk with new technology implementations. Not the least of these is the leakage of sensitive and confidential information. The ability to control data, physical objects, and machinery creates significant employee security and safety risks. Once there are significant components of operational infrastructure connected, if there is penetration from the outside, it's not just about the data, it's about some physical damage that could be done to the facility to the person, whatever it might be.
In a recent report by another major consulting firm, in the implementation of new technologies, three-quarters of all enterprises plan to increase their budget for "metaverse" related investments from 10% to 20% over the next one to three years.
Read On Order IT Governance Strategy Download Sample