Service Level Agreement Policy Template with Sample KPI Metrics
Comes with sample agreement, KPI metrics, and 3 full job descriptions - Director IT Management and Controls, Manager Metrics, and Metrics Measurement Analyst
Silver Edition Comes With a FULL SET of metrics related job descriptions


Order SLA Policy and Metrics Download Sample SLA and Metrics
A comprehensive service level agreement is an essential requirement for the provision or receipt of any important service. It quite simply defines the parameters for the delivery of that service, for the benefit of both parties.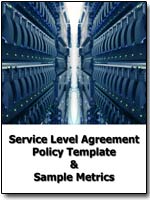 Identifying key service level and performance metrics are key ingredients in understanding how the path towards an objective can be impacted. Consequently, by establishing a platform that systematically monitors these service level and performance metrics, CIOs and operational executives can consistently get a pulse on the health of the business. Ultimately, by tracking and measuring the performance of their various business segments, CIOs and executives are able to validate their decision-effectiveness against the intended business objectives. Negative results could indicate the need to vary existing strategies or formulate alternative strategies, while inconsistent results could point towards a lack of correlation between the objectives and their associated metrics. In either case, timely executive intervention is important in ensuring realignment of objectives, service levels, metrics, and strategies. CIO and IT Managers must be vigilant in identifying shifts in business performance. By leveraging real-time data and information, executives can become more proactive, rather than reactive, in performance management.
Includes sample KPI Metric for Work From Home users
The quality of the agreement is therefore a matter of substantial importance. It must be complete, comprehensive and accurate in its coverage. Importantly, both parties must UNDERSTAND the contents and their obligations described within.
But where do you start? How do you establish what is required? How can you quickly understand the basics? How can you quickly create an appropriate service level agreement?
Unfortunately, creation of an appropriate and focused Service Level Agreement (SLA) is NOT a trivial task. However, it need not be a daunting experience either!
Silver Edition Includes a FULL SET of Job Descriptions
Each of these job descriptions have been updated recently to reflect the realities of the current technology and compliance requirements. In addition, these descriptions have been used by many organizations to score the compensation levels these positions command.
Chief Data Officer
Chief Experience OLfficer
VP Administration
VP Strategy and Architecture
Digtal Brand Manager
Director IT Management and Control
Manager Contracts and Pricing
Manager Controller
Manager KPI Metrics
Manager Metrics
Manager Outsourcing

Manager Service Level Reporting
Manager Social Networking
Manager Vendor Management
Key Performance Indicator Analyst
Metrics Measurement Analyst
Quality Measurement Analyst
SEO Specialist
System Administrator Linux
System Administrator Unix
System Administrator Windows
Wi-Fi Network Administrator
Order SLA Policy and Metrics Download Sample SLA and Metrics
The SLA Template and KPI Metrics
The Janco Service Level Agreement Template and Metrics tool is designed to make creation of service level agreements far more straight forward. It is intended to ed-mystify the Service Level Agreement process, and enable CIOs and It Managers in concert with its clients produce a top quality document with the minimum of level of frustration. There is absolutely no need to re-invent the wheel! It is supplied in MS-Word format along with sample metrics which can be applied to most functions.
Service Level Agreement Policy Template in Word for a single application, It defines specific SLAs and metrics that are both internally and externally focused. The sample contain over 70 possible metrics presented graphically in PDF format.
The purpose of this Support Service Level Agreement (SLA) is to formalize an arrangement between [your company] and [the client] to deliver specific support services, at specific levels of support, and at an agreed-upon cost. This document is intended to provide details of the provision of level 3 application support services to [the client]. This SLA will evolve over time, with additional knowledge of the client requirements, as well as the introduction of new applications and services into the support portfolio provided to [the client].
The table of contents for the Service Level Agreement policy template can be viewed in it entirety by clicking on the download link below.
Order SLA Policy and Metrics Download Sample SLA and Metrics
The sample metrics are provided in PDF format. Click on the small image below to see one page of the PDF file with the book marked outline of the document showing the classification of the 70 metrics depicted graphically


Click to see full image
Just having metrics and service level agreements is not enough. CIOs and operational managers must:
Respond to the metrics they have in place

Depending on the level of change in a metric or service level they should involve middle and or upper level management on an assessment of the change and recommend action. By encouraging action enterprise can improve over all operational performance and efficiencies.


Establish feedback channels to validate service level agreements and metrics

Even when objectives and standards are set, approaches can vary over time due to change in competitive pressures and customer demands. Being the first to know, CIOs and operational managers involved in execution must be proactive in informing their superiors and peers of the status and effectiveness of their service levels and operational productivity metrics.


Evaluate systematically SLAs and metrics against business and operational objectives

CIOs and operational managers should constantly be accessing the available resources to ensure strategic, financial, and operational alignment of service levels and metrics. In addition to leveraging the available data to make informed decisions, they should be disciplined in recognizing bad decisions and quickly seek better solutions.
---
Order SLA Policy and Metrics Download Sample SLA and Metrics
Read On Infrastructure Policies