Development Drivers - ERP, IoT, and Blockchain
CEOs define reasons driving technology development projects
Many enterprises are embarking on new technology innovations as the economy continues to improve. Janco conducted a survey recently to look at the factors behind major development activites at 64 major corporations (Sales in excess of $100 million annually).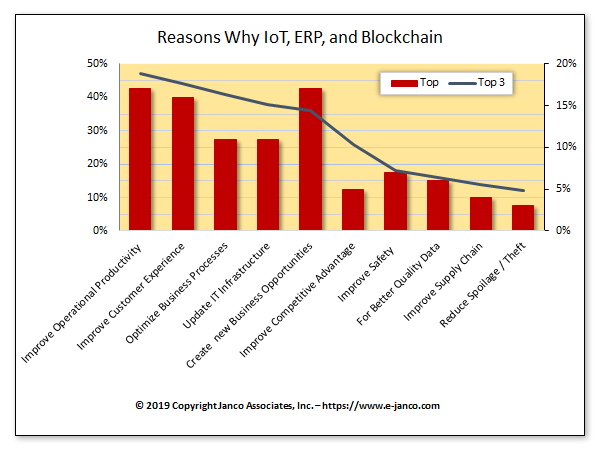 The primary focus of IT initiatives is in the area of IoT (Internet of Things), ERP (Enterprise Resource Planning and Blockchain applications.
The top 10 reasons that those three areas have been selected are:
Improve Operational Productivity – All three of these technologies are geared towards improved productivity and reduction in the cost of operations.
Improve Customer Experience – If there are no customers then nothing happens.  The drive to use technology to improve the customers' experience is paramount in the priority setting done by C-Level executives.
Optimize Business Processes – Over time inefficiencies are built into every administrative process.  Each of these technologies works towards doing it a "better" way.
Update IT Infrastructure – IT infrastructure continues to evolve.  Technology needs to be refreshed in order to be relevant.
Create New Business Opportunities – With new technology come new ways to generate revenue and provide better customer service.
Improve Competitive Advantage – The first enterprise into a new market or service area has an inherent competitive advantage.  New technologies are reducing the costs associated with creating new markets. 
Improve Safety – IoT, for example, places tools where they could not be earlier.  With proper application and monitoring, safety can be improved.
For Better Quality Data – Blockchain and ERP now leverage information with rapid and accurate availability.
Improve Supply Chain – Blockchain and ERP are the new worlds management focus is on.  Logistics systems no longer have to depend on paper and pencil.
Reduce Spoilage / Theft – Blockchain, IoT, and ERP are tools to improve control over all classes of assets and perishable products.
Read on Order IT Management Tool Kit