ISM Interviews M. Victor Janulaitis
Interview reveals key IT Management Best Practices
ISM Interviews M. Victor Janulaitis - Los Angeles, CA - Journal of Information Systems Management Volume 3 Issue 4 interviews M. Victor Janulaitis.
Mr. Janulaitis is currently the CEO of Janco Associates Inc. His Linkin profile can be found at https://www.linkedin.com/in/m-victor-janulaitis/.
In summary he has taught several major universities including: a Harvard Graduate School as a guest lecturer; USC Graduate School of Business as professor; UCLA as a guest lecturer; and others. He has written several books on Information Technology, Human Resources, and Organizational Infrastructure.
One of his claims to fame is that he and his staff created the Disaster Recovery Business Continuity Plan that Merrill Lynch had to activate on 911. Only 52 seconds of transactions were lost but latter recovered. When the plan was activated the CIO responsible to execute it was on a plane over the Atlantic. The plan was so well developed it was able to operate on auto-pilot.
Mr. Janulaitis was the President of Positive Support Review (PSR) Inc. when this interview was conducted
Positive Support Review (PSR) Inc., a management consulting practice headquartered in Los Angeles, specializes in developing competitive strategies and Information Systems for aggressive Fortune 500 corporations. PSR's president and founder, M. Victor Janulaitis, firmly believes that operational improvements can lead to unprecedented business opportunities. He advises his clients to look at the total spectrum of their business functions, their technology, and the overall culture in which they operate. From this starting point, PSR develops action plans on the basis of critical success factors and competitive assessments. Well known among PSR's successes is its active role in the development of American Hospital Supply's automated order entry system.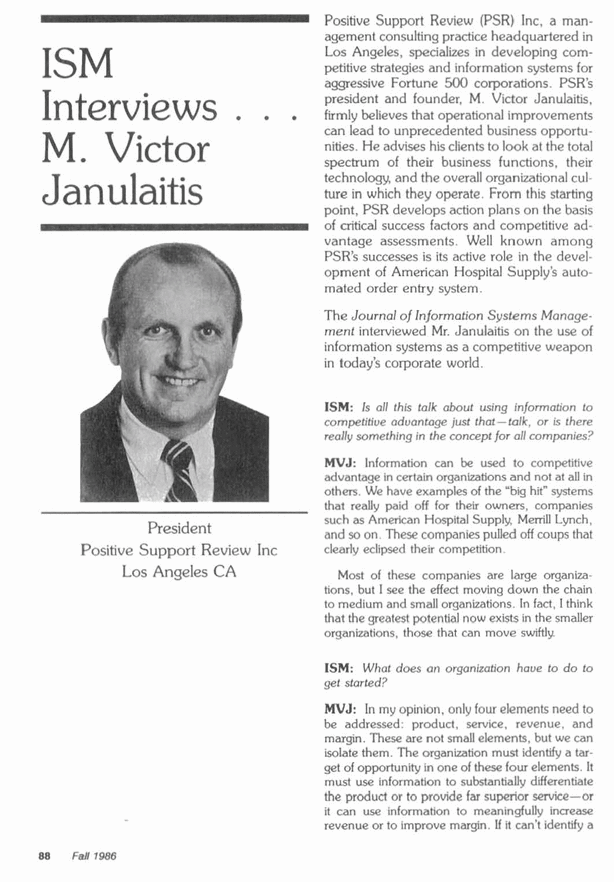 If you want to purchase the full article go to http://www.tandfonline.com/doi/abs/10.1080/07399018608965281