Pandemic Factors Added to Disaster Planning Template
Park City, UT - Victor Janulaitis, CEO of Janco Associates, Inc. (Janco), announced today that Version 5.4 of its Disaster Planning and Business Continuity Template includes a pandemic planning checklist and a job description for a Pandemic Coordinator.
Pandemic Factors Added to Disaster Planning Templates.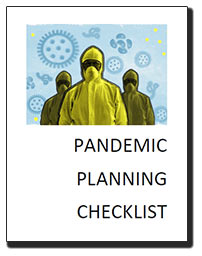 Janulaitis said, "The pandemic checklist is a tool that can be applied immediately to highlight exposures that businesses and other enterprises face given the urgency of the current situation. "
The  Disaster Planning and Business Continuity Template is an electronic document which is over 198 pages and can be used in the creation of a unique Disaster Recovery Plan (DRP) and Business Continuity plan (BCP) for any sized entity. In the process of creating DRPs and BCPs for organizations across the country, Janco has found every department, in every corporation or organization needs a universal, yet comprehensive DRP and BCP to safeguard the use of their computers and all related equipment and information, which support enterprise wide operations in the event of a natural disaster.
Version 5.4 has detailed Disaster Planning activation procedures for the plan as well as a specific set of tools that can be applied in case of a pandemic.
Janco's Disaster Recovery and Business Continuity Template provides clear examples of how to add a Pandemic action plan to a Disaster Recovery Plan. It is a model any sized organization can use. It is comprehensive without being wordy or pedantic. The process created is concise and easily understood by all employees. "The template has checklists and examples of what is needed to get systems and networks back in working order quickly. Janco's work with clients who have suffered fires, earthquakes, floods, tornadoes, hurricanes and other disasters has been used in creation of this inexpensive template", asserted Janulaitis. "The template is the blueprint that can be used by any organization".
Order DRP BCP Template DRP BCP Sample