Salary Survey Methodology Cities Positions Benefits

Janco's IT Salary Survey includes the following 78 United States cities, as well as 23 selected cities in Canada.

The data by city is provided in the detail printed PDF report. It also is available in Microsoft Excel format which can be extracted.
The data can not be sold or redistributed. Information from the salary survey can be utilized with the inclusion an Janco's copyright and link to it web site.
For a fee, we will provide historical trends on compensation data from the early 1990's thgrough the current time period. We do this on a time and materials basis. Please contact us directly if this is something that you need.
In addition, the firms principal is available as an expert witness for various forms of discrimination and wrongful termination.
US Cities
| | | | |
| --- | --- | --- | --- |
| Akron | Albuquerque | Allentown | Anchorage |
| Atlanta | Atlantic City | Austin | Baltimore |
| Bellingham | Boise | Boston | Buffalo |
| Charleston | Charlotte | Cheyenne | Chicago |
| Cincinnati | Cleveland | Colorado Springs | Columbus |
| Dallas | Denver | Des Moines | Detroit |
| Duluth | Gary | Grand Rapids | Green Bay |
| Honolulu | Houston | Indianapolis | Kansas City, MO |
| Las Vegas | Lexington | Little Rock | Los Angeles |
| Louisville | Madison | Memphis | Miami |
| Milwaukee | Minneapolis | Nashville | New Orleans |
| New York | Oakland | Oklahoma City | Olympia |
| Omaha | Orange County CA | Orlando | Peoria |
| Philadelphia | Phoenix | Pittsburgh | Portland, ME |
| Portland, OR | Provo/Orem | Raleigh-Durham | Rockford |
| Sacramento | Salt Lake City | San Antonio | San Diego |
| San Francisco | San Jose | Seattle | Sioux Falls |
| St. Louis | Stamford | Syracuse | Toledo |
| Topeka | Tucson | Tulsa | Washington |
| Wichita | Winston-Salem | | |
Canadian Cities
Calgary, AB
Charlotte, PE
Edmonton, AB
Fredericton, NB
Guelph, ON
Halifax, NS
Hamilton, ON
Hull, QC
London, ON
Montreal, QC
Niagara Falls, ON
Ottawa, ON
Quebec City, QC
Regina, SK
Saskatoon, SK
St. John's, NF
Sudbury, ON
Toronto, ON
Vancouver, BC
Victoria, BC
Whitehorse, YT
Windsor, ON
Winnipeg, MB
Order Salary Survey Download Sample Provide Data
IT Job Families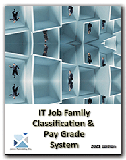 Both in an individual's personal career planning and an enterprise's staffing, promotion and compensation it is important to have benchmarks on the levels that individuals are at.  To that end, one of the best objective ways to meet this goal is to have formal job descriptions and clear paths for promotion and compensation.
A job family classification system is one that defines how individuals can grow into higher level positions over time by providing benchmarks milestones that need to be achieved as they advance over time.  This in time, impacts the compensation that is paid in a fair and objective manner.   A job family is a series of progressively higher, related jobs distinguished by levels of knowledge, skills, and abilities (competencies) and other factors, and providing promotional opportunities over time. With this in place, along with full detail job descriptions, it is easy for both the staff member and the management team to understand what is expected and were the long term options for the staff member are.
The primary driver for the classification system are the position descriptions that are assigned to a particular family and the job level is based on the job family classification and level descriptions. All positions at the same level have the same salary grade throughout an enterprise.
IT Job family classification system has been proven to be a significant time saver and productivity improvement tool for both the Human Resource Department and IT management function.
Read On Order Classification Pay Grade System Download Selected Pages