20 CIOs made over $2 Million in Total Compensation
SEC filings show that a majority of the compensation for top paid CIOs was in the form of bonuses and deferred compensation -- Top base salary paid was $1 Million

---

Top Paid CIOs & CTOs - Latest Data - Fall 2023
---
20 CIOs made over $2 Million in Total Compensation - The top compensation for highest paid CIO is now $8.6 million and that is for the CIO of American Express. From public filings at the SEC we have found that there at least 19 other CIOs who's compensation exceeds $2 million.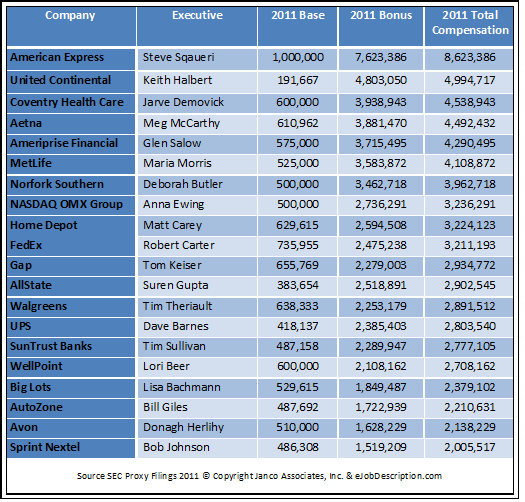 Read on Salary Survey Order Salary Survey Download Summary
---
CIO Role is Changing - Value Added is Key to Success
More CIOs are now part of the "C Level" executive management team
The chief information officer's (CIO) influence is growing in today's boardroom. And the role of the IT organizations that they lead is expanding as well. The CIOs of the next decade face many challenges. The CIOs who will succeed will have a common set of skills.

CIOs both visionary and pragmatic - It is not enough to plan for innovation, the CIO needs to be perceptive and realistic. As an insightful manager, a CIO promotes broad technology agenda to help the business profit from leading-edge initiatives. At the same time as a pragmatist, a CIO deals with the realities of the business. The pragmatist also facilitates the productivity of current IT solutions. The CIO focuses on minimizing cost and maximizing results, in addition the CIO helps to increase the customer and product/service base of the enterprise.


CIOs focus on ROI improvement of IT  - CIOs will find new ways to help customers and the organization profit from how data is used while focusing on managing budgets and processes to eliminate or reduce costs.


CIOs inspire the enterprise and expand the business impact of IT - CIOs will have proven expertise in both business and technical facets of their role. CIOs will interact with the enterprise and its executive team as enterprise leaders and drive new business initiatives and shifts jointly the other members of the executive team.
Read on Salary Survey Order Salary Survey Download Summary