IT Job Family System Updated to meet compliance requirements
IT Job Family Definition in "How To Guide for Cloud Processing and Outsourcing" and "IT Job Family Classification HandiGuide™"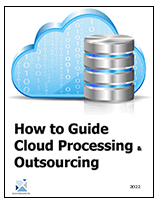 Park City - UT –IT Job Family System Updated to meet compliance requirements - Looking forward to an improving economy in 2015, Janco released two products that are in every CIO's must have list. They are the "Cloud Processing and Outsourcing How to Guide" (see https://www.e-janco.com/cloud.htm) and the "IT Job Family Classification HandiGuide®" (https://www.e-janco.com/it-job-classification-pay-grade.html).The CEO of Janco Associates, Mr. Victor Janulaitis said, "As CIOs begin the process of rebuilding their organizations to meet the expected new demand for IT services they will be addressing issues associated with hiring and retaining the right staff as well as implementing new cloud and outsourced solutions. To that end Janco has just released two products that need to be in every CIO's inventory. " The CIO also said, "In many organizations compensation levels and responsibilities have been misaligned during the recession. Job descriptions and job families need to be created that reflect what truly is occurring in IT organizations. " He added, "Janco's IT Job Family Classification is the right tool that CIOs can use to accomplish that. Plus the tool has been bundled with several other products so that the CIO who does not have their own HR group now has the right tools at hand to better manage the process. Also the Cloud Processing and Outsourcing eliminate the need for extensive staff work and lets the CIO move more rapidly in those areas"
Order IT Job Classification & Pay Grades Download Selected Pages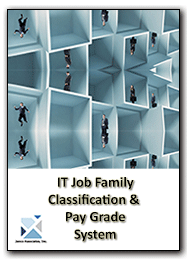 The IT Job Family Classification HandiGuide provides a set of tools that can be used to create job families which are directly related to pay scales, promotions, and long term career paths. When you add this to the IT Job Descriptions, Interview and Hiring Guide, and the IT Salary Survey you have the "CIO HR and Staffing Management Kit" (https://www.e-janco.com/cio-hr-staff-management.html). In addition both the individual HandiGuide and the Kit can be acquired with 12 months of update service.
The How to Guide for Cloud Processing and Outsourcing has every needed to plan, select vendors, implement, and manage for both cloud applications and outsourcing. The electronic document includes: cloud outsourcing management standard, SLAs and responsibilities; policy; approval standard process; sample SLAs; SLA metrics; sample outsourcing contract; non-disclosure template; job description for manager cloud applications; job description for cloud computing architect; Business & IT Impact Questionnaire; and ISO 27001 & 27002 Security Process Audit Checklist.
Order Outsourcing Template Download Selected Outsourcing Pages
Janco is an international consulting firm that follows issues that concerns CIOs and CFOs and publishes a series of IT and business infrastructure HandiGuides® and Templates including a Disaster Recovery/Business Continuity Template, Security Template and IT Salary Survey.