Security is the top concern of over two thirds of CIOs and CTOs
Janco has just completed its annual review of CIO concerns and the top three are security, cloud computing and infrastructure
Park City UT -- https://www.e-janco.com - Security is the top concern of over two thirds of CIOs and CTOs -Janco Associates has just completed its annual review of CIO and CTO concerns and complied its CIOs Top 10 Concern List. Mr. M. V. Janulaitis, the President of Janco Associates, Inc. said, "In interviews over the past two months with 110 CIOs and CTOs, Janco found that three concerns standout for over half of those interviewed. The concerns are security, cloud computing, and infrastructure. Security is the top issue with 68% of the top IT professional saying it is the one they lose the most sleep over. " The CEO added, "With the recent events like the breaches at Sony and of US government officials email account, CIOs are well aware they are in the hot seat on this issue. " He added, "CIOs and CSOs are struggling to get a handle on the every changing landscape of security. With all of the cyber-attacks and data breaches, it is clear that the security and infrastructure for most enterprises needs to be reviewed and re-vamped on an on-going basis. "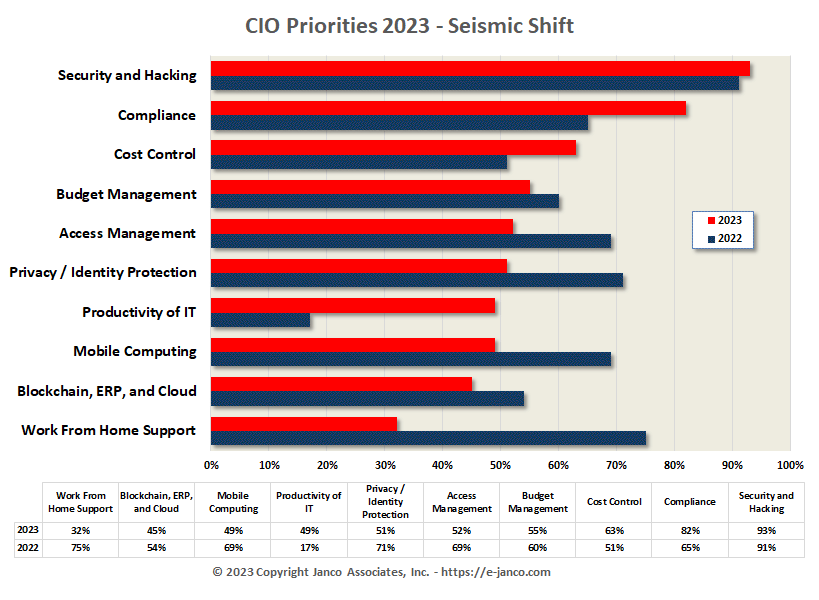 Updated with the latest CIO priorities
The top 10 CIO concerns are: security - 68%; cloud computing - 55%; infrastructure - 48%; consolidation of legacy systems and data - 44%; big data - 40 %; automation focused on enterprise staff reductions and improved revenues - 32%; mobile computing including BYOD - 22%; IT staff retention - 15%; social networks - 13%; and succession planning -10%. Janulaitis said, "Each of these top ten concerns is focused on the three legs of IT management: technology, people, and infrastructure.
To address these concerns, Janco has created a unique CIO Concern Management Toolkit (https://www.e-janco.com/cio-concerns.html). The CIO Concern Management Toolkit includes: Security Manual Template, How to Guide for Cloud Processing and Outsourcing, IT Job Family Classification HandiGuide, over 270 Job Descriptions, Interview and Hiring Guide, IT Salary Survey, CIO IT Infrastructure Policy Bundle with electronic forms, Business and IT Impact Questionnaire, and Vulnerability and Threat Assessment Tool. All of the components of the kit have been updated to meet the latest governmental, industry and international compliance requirements.
The CEO added, "The best features of this kit is the definition of industry standard best practices for security and compliance, infrastructure, organizational role and responsibilities, how to deal with shadow IT, BYOD and processes that improve overall effectiveness and efficiencies of IT. "
The CIO Concern Management Toolkit is delivered electronically and comes as an easily modifiable MS WORD document. More information on the toolkit can be found on the Janco's web site at https://www.e-janco.com/cio-concerns.html. The kit can be acquired with or without update service and is offered at $2,900 to $3,900.
Order CIO Concern Management Kit Order Components Order Update Service