IT Best Practices Documented in Policies Released
Janco Associates has just updated all 10 policies in its CIO IT Infrastructure Policy Bundle to reflect over 100 IT best practices and meet the latest mandated domestic and international compliance requirements for systems and sensitive information. In addition it addresses WYOD.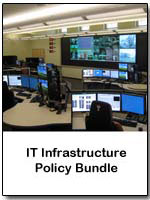 Park City - UT - www.e-janco.com - IT Best Practices Documented in Policies Released - Today Janco Associates,(https://www.e-janco.com) Inc. has released its 2016 CIO IT Infrastructure Policy Bundle with over 100 IT best practices and compliance requirements. The CEO of Janco, M Victor Janulaitis said,"After an extensive review of the practices and policies of scores of successful domestic and international organizations Janco has updated all 18 of its polices and over 50 electronic forms in the CIO IT Infrastructure Policy Bundle. " He added, "The world is changing and while BYOD was a new concern 3 years ago, today WYOD (Wear Your Own Device) is something that needs to be addressed as individuals can stroll into an enterprise's facility and gather both physical (via cameras) and electronic (via Wi-Fi) sensitive information. " This was a major update of the entire suite of Janco's infrastructure products. Some of the new additions are:
Top 10 Technology Travel Tips
How to create a WYOD (Wear Your Own Device) strategy
Best Practices for Text Messaging Sensitive Information
Legal considerations of Google Glass and other Wearable Devices
Federal Computer Security Incident Handling Requirements
Best Practices to Meet Compliance Requirements
Mobile Device Security and Compliance Checklist
Top 10 Cloud and Outsourcing SLA Best Practices
ISO Compliance Requirements
Legal definitions for records management compliance
Generic Service Level Agreement Template
Tips on how to avoid being scammed on social networks
Telecommuting risks faced by the business
The CEO said, "In addition to the policies and electronic forms we are offering our users the option to acquire our industry leading IT Governance Infrastructure, Strategy, and Charter Template plus all of the IT Job descriptions. These also come with Janco's one or two update service for all of the components.
All of Janco's products use the latest technology and are delivered electronically. The firm includes in its customer base organizations from over 100 countries and across most industry segments.
Janco is an international consulting firm that follows issues that concern CIOs and CFOs. The firm publishes a series of IT and business Infrastructure HandiGuides® and Templates including IT Infrastructure Policies and Procedures, Disaster Recovery/Business Continuity Template, Security Template, IT Job Descriptions, and its semi-annual IT Salary Survey.
Order Infrastructure Policies Download Sample