Covid Impact on IT Job Market
Over 115K IT Pros lost jobs at the peak of Covid and related shutdowns
Covid and related shutdowns had a major impact on the IT job Market. At its peak there were 3.67 million IT pros employed in the US. When Covid first appeared in the US, in February and March 2020, companies began to contract the number of IT professionals. The pace of job elimination accelerated as companies shut down. Interestingly most of the eliminations of IT position occurred in the small to mid-sized organization. In larger enterprises the jobs lost were associated with traditional "non-Internet" based applications. The potions that were the most secure were in the networking and e-commerce areas in large organizations.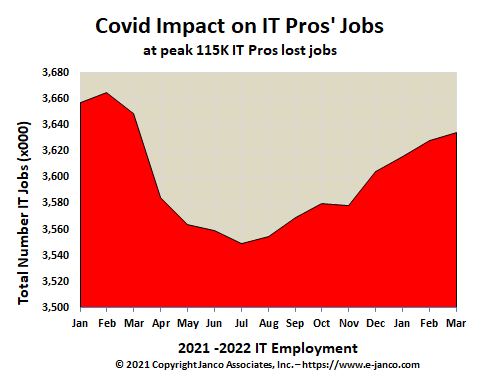 Additionally, hard hit were IT consultants and IT contractors. They were among the first to be let go as CIO and their enterprises adjusted to the shutdowns.
Updated with the latest IT Job Market statistics
Historic IT Job Market Growth Trend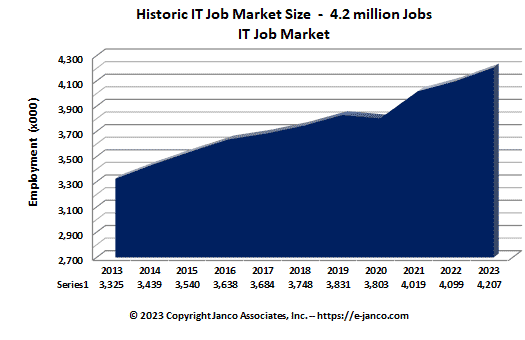 For current analysis of this data, go IT Job Market Size to see the historic job market growth trend data
Data as of September 2023
IT Job Market Change - August 2023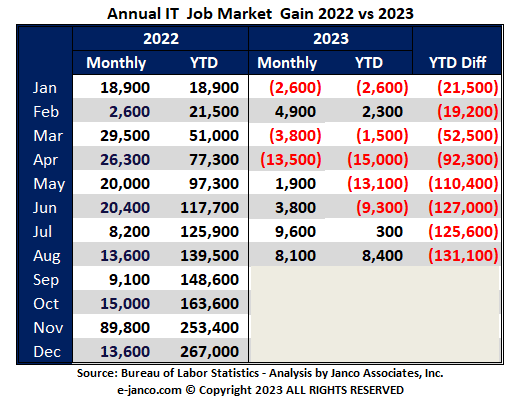 IT Job market grew by 8,400 YTD in 2023 with economic slowing and major layoffs. Analysis shows that IT Job Market growth has paused and that AI hiring trend has not taken hold as of yet.
Janco predicts that almost all of the IT jobs lost will be recovered by the end of the second quarter of 2021. At the same time, Work From Home (WFH) will become a standard option that IT professionals will be looking for when they take new positions.
This is not something new. Back in the 1990's, I consulted with and organization (PacifiCare) in Southern California most of the development staff homes were linked (via dial-up) to the host development mainframe. The CIO at that organization, Richard Kislowski had implement that solution in order to reduce cost. At that time he was paying his development staff to have beepers so that he could call them in as a major development effort was mandated by changes in health insurance laws.
With Covid, the industry has been placed in the same situation. Organization have found that WFH is a very productive way to operate and manage administrative and technology functions.
Read on IT Hiring Kit Order IT Hiring Kit