IT Related Fraud is More Prevalent
---
CIOs need to be aware of fraud that can occur on their systems
IT Related Fraud is More Prevalent - Security is more than compliance to mandated requirements. CIOs not only need to be concerned with protection of sensitive information but the specter of fraud and theft is a pressing concern. With the greater dependence by corporation on open Internet based systems there has been a notable increase in fraud and theft.
Janco in its monthly interviews of CIOs found that one in five organizations has experienced some type of fraud associated with their systems.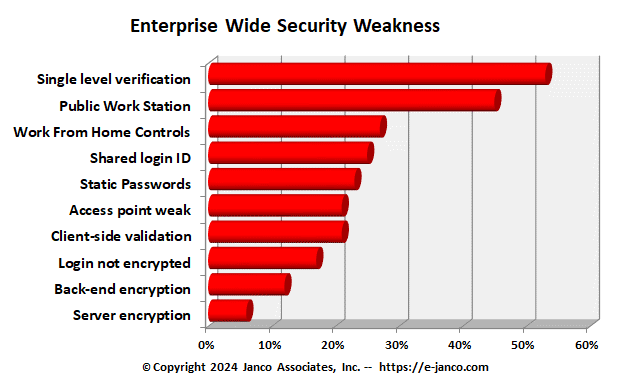 The results of this analysis agree with a report that was recently published in the CFO magazine. They report that Seventy percent of survey respondents polled said their companies experienced fraud in the previous 12 months, compared to 61 percent for the prior 12-month period, which surveyed 901 senior executives, 53 percent of them at the C-suite level. The fraud they found went beyond IT systems.
Data Security and Protection are a priority and this template is a must have tool for every CIO and IT department. Over 3,000 enterprise worldwide have acquired this tool and it is viewed by many as the Industry Standard for Security Management and Security Compliance.
Read on CIO Job Description Order CIO Job Description
Security Manual Template purchase options
Security Manual Template - Standard Edition
Business and IT Impact Questionnaire
Threat and Vulnerability Assessment Toolkit
Security Management Checklist
Full Detail Policies for

Blog and Personal Website Policy
Internet, Email, Social Networking, Mobile Device, and Electronic Communication Policy
Mobile Device Policy
Physical and Virtual File Server Policy
Sensitive Information Policy
Travel and Off-Site Meeting Policy

Job Descriptions for the Chief Compliance Officer, Chief Security Officer, Data Protection Officer, Manager Security and Workstations, Manager WFH Support, Security Architect, and Systems Administrator.
Work From Home (WFH) operational rules
HIPAA Audit Program
GDPR Compliance Checklist to meet EU Requirements
CCPA - California Consumer Privacy Act requirements definition
Consumer Bill of Rights
Sarbanes Oxley Section 404 Checklist
HIPPA Audit Proram
Security Audit Program- fully editable -- Comes in MS EXCEL and PDF formats -- Meets GDPR, ISO 28000, 27001, 27002, Sarbanes-Oxley, PCI-DSS, HIPAA FIPS 199, and NIS SP 800-53 requirements -- Over 400 unique tasks divided into 11 areas of audit focus which are the divided into 38 separate task groupings
Electronic forms that can be Emailed, completed via a computer or tablet, and stored electronically including: Blog Policy Compliance, BYOD Access and Use, Company Asset Employee Control Log, Email - Employee Acknowledgment, Employee Termination Checklist, FIPS 199 Assessment Electronic Form, Internet Access Request, Internet Use Approval, Internet & Electronic Communication - Employee Acknowledgment, Mobile Device Access and Use Agreement, Employee Security Acknowledgment Release, Preliminary Security Audit Checklist, Risk Assessment, Security Access Application, Security Audit Report, Security Violation Reporting, Sensitive Information Policy Compliance Agreement, Server Registration, and Threat and Vulnerability Assessment
eReader version of the Security Manual Template
BONUS - ISO 28000 Supply Chain Security Audit Program in MS EXCEL and PDF formats.
Security Manual Template - Premium Edition
Security Manual Template Standard Edition - Electronically Delivered

Security Team Job Descriptions MS Word Format

 Chief Compliance Officer (CCO); Chief Security Officer (CSO); VP Strategy and Architecture; Data Protection Officer (DPO); Director e-Commerce; Database Administrator; Data Security Administrator; Manager Data Security; Manager Facilities and Equipment; Manager Network and Computing Services; Manager Network Services; Manager Training and Documentation; Manager Voice and Data Communication; Manager Wireless Systems; Identity Management Protection Analyst, Information Security Analyst, Network Security Analyst; System Administrator - Linux, System Administrator - Unix; and System Administrator - Windows
Security Manual Template - Gold Edition
Security Manual Template Premium Edition Electronically Delivered

IT Job Descriptions MS Word Format - Updated to meet all mandated security requirements

324 Job Descriptions from the Internet and IT Job Descriptions HandiGuide in MS Word Format including all of the job descriptions in the Premium Edition. Each job description is at least 2 pages long and some of the more senior positions are up to 8 pages in length.
Order Security Manual Template Multi-Country License Download sample