10 Step Security Plan for 3rd Party Access
As CIOs move more data into the public environment a plan needs to be put in place for 3rd party access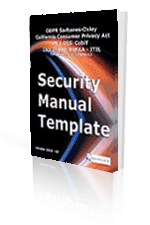 A 10 step security plan for 3rd party access to enterprise systems is a must with the increased use of Internet processing, public access to enterprise data, and the day to day use of public systems by business operations.
Security and compliance are key to maintaining control of sensitive and confidential information. All of the product offerings of Janco are geared towards proving tools to help C-Level executives and top IT professionals maintain the privacy of its users and enterprise data.
Read on Order Security Manual Template Download sample
Create an asset inventory and tracking to reduce the risk of network-connected assets being out of compliance with policy.
Understand the cloud-based environment where all users are considered remote, and apply controls similar to how they have historically provided access to third parties.
Make changes in how the organization manages and controls these various user-types by incorporating concepts such as zero-trust, network abstraction, extended identity validation and full-session recording to effectively reduce the overall risk and isolate any potential impact caused by third parties or remote user actions.
Define a plan which meets the requirements for external contractors, employees, and B2B entities.
Coordinate third party access plan in conjunction with their business units and develop a solid communications plan.
Create rules for access using the appropriate level of controls commensurate with their given risk profiles, to include: isolation/segmentation, encryption, and federation integrations.
Establish access points and rules for data availability to third parties
Invest in ways to authenticate third-party users beyond simple user name and password.
Define metrics which address compliance variances and risks, and build an end-to-end security and risk view for the entire enterprise.
Create a reporting system which track access, access violations, downloads and total usage. This should be real-time and have assigned individuals monitor and report and deviations.
Security Manual Template purchase options

Security Manual Template - Standard Edition

Business and IT Impact Questionnaire
Threat and Vulnerability Assessment Toolkit
Security Management Checklist
Full Detail Policies for

Blog and Personal Website Policy
Internet, Email, Social Networking, Mobile Device, and Electronic Communication Policy
Mobile Device Policy
Physical and Virtual File Server Policy
Sensitive Information Policy
Travel and Off-Site Meeting Policy

Job Descriptions for the Chief Compliance Officer, Chief Security Officer, Data Protection Officer, Manager Security and Workstations, Manager WFH Support, Security Architect, and Systems Administrator.
Work From Home (WFH) operational rules
HIPAA Audit Program
GDPR Compliance Checklist to meet EU Requirements
CCPA - California Consumer Privacy Act requirements definition
Consumer Bill of Rights
Sarbanes Oxley Section 404 Checklist
HIPPA Audit Proram
Security Audit Program- fully editable -- Comes in MS EXCEL and PDF formats -- Meets GDPR, ISO 28000, 27001, 27002, Sarbanes-Oxley, PCI-DSS, HIPAA FIPS 199, and NIS SP 800-53 requirements -- Over 400 unique tasks divided into 11 areas of audit focus which are the divided into 38 separate task groupings
Electronic forms that can be Emailed, completed via a computer or tablet, and stored electronically including: Blog Policy Compliance, BYOD Access and Use, Company Asset Employee Control Log, Email - Employee Acknowledgment, Employee Termination Checklist, FIPS 199 Assessment Electronic Form, Internet Access Request, Internet Use Approval, Internet & Electronic Communication - Employee Acknowledgment, Mobile Device Access and Use Agreement, Employee Security Acknowledgment Release, Preliminary Security Audit Checklist, Risk Assessment, Security Access Application, Security Audit Report, Security Violation Reporting, Sensitive Information Policy Compliance Agreement, Server Registration, and Threat and Vulnerability Assessment
eReader version of the Security Manual Template
BONUS - ISO 28000 Supply Chain Security Audit Program in MS EXCEL and PDF formats.

Security Manual Template - Premium Edition

Security Manual Template Standard Edition - Electronically Delivered

Security Team Job Descriptions MS Word Format

 Chief Compliance Officer (CCO); Chief Security Officer (CSO); VP Strategy and Architecture; Data Protection Officer (DPO); Director e-Commerce; Database Administrator; Data Security Administrator; Manager Data Security; Manager Facilities and Equipment; Manager Network and Computing Services; Manager Network Services; Manager Training and Documentation; Manager Voice and Data Communication; Manager Wireless Systems; Identity Management Protection Analyst, Information Security Analyst, Network Security Analyst; System Administrator - Linux, System Administrator - Unix; and System Administrator - Windows

Security Manual Template - Gold Edition

Security Manual Template Premium Edition Electronically Delivered

IT Job Descriptions MS Word Format - Updated to meet all mandated security requirements

324 Job Descriptions from the Internet and IT Job Descriptions HandiGuide in MS Word Format including all of the job descriptions in the Premium Edition. Each job description is at least 2 pages long and some of the more senior positions are up to 8 pages in length.
Order Security Manual with Update Service Download Sample