ISO 28000 - Supply Chain Security Management Compliance Mandate
Replaces ISO 28000:2007
ISO 28000 has been developed in response to demands from multiple industries for a security management standard. Its objective is to improve the security of all supply chains. It is a high-level management standard that enables an organization to establish an overall supply chain security management system. The IS standard mandates organizations to assess the security environment in which they operate. In addition organizations are mandated to determine if adequate security measures are in place and if other regulatory requirements already exist with which the organization complies.
(note: this replaces ISO 28000:2007)
If security needs are identified by this process, organizations need to implement policies, procedures, mechanisms, and processes to meet these needs. Since supply chains are dynamic in nature, some organizations managing multiple supply chains may look to their service providers to meet related governmental or ISO supply chain security standards as a condition of being included in that supply chain to simplify security management including:
ISO 20858 - Maritime Port Facility Security Assessment and Security Plan
ISO 28001 - Best Practices Custody in Supply Chain Security
Other standards mandated by Government and Industry/Trade Groups
Read On Order Compliance Management Kit Download TOC
ISO Methodology - Plan-Do-Check-Act - Security Domains
ISO 28000 defines requirements to plan, establish, implement, operate, monitor, review, maintain and continually improve a documented management system to prepare for, respond to and recover from disruptive events when they arise. The requirements specified in ISO 28000 are generic and intended to be applicable to all organizations, regardless of type, size and nature of the organization. The extent of application of these requirements depends on the organization's operating environment and complexity.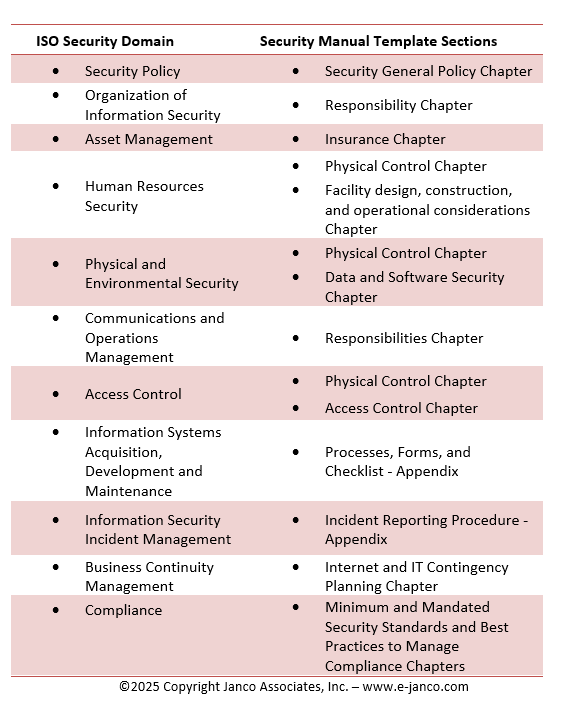 The structure of the ISO 28000 for supply chains is organized into the following main areas:
Security Management Plan Defined
Security Management Plan Implemented
Security Management Plan Assessment and Audit
Security Management Plan Finding Communication, Recommendations, and Solution Implementations
Context of the organization
During an audit the organization needs to determine external and internal issues that are relevant to its purpose and that affect its ability to achieve the expected outcomes of its Disaster Recovery/Business Continuity Plan including defining:
The organization's activities, functions, services, products, partnerships, supply chains, relationships with interested parties, and the potential impact related to an incident
Links between the business continuity policy and the organization's objectives and other policies, including its overall risk management strategy
The level of risk the organization can assume
The needs and expectations of relevant interested parties
Legal, regulatory and other requirements to which the organization subscribes
Leadership
Top management needs to show an ongoing commitment to the Disaster Recovery/Business Continuity Processes. Through its leadership and actions, management can create an environment in which different actors are fully involved and in which the management system can operate effectively in synergy with the objectives of the organization. Leadership responsibilities include:
Ensuring the Supply Chain Security Management System is compatible with the strategic direction of the organization
Integrating the Supply Chain Security Management System requirements into the organization's business processes
Providing the necessary resources for the Supply Chain Security Management System
Communicating the importance of effective disaster recovery and business continuity management
Ensuring that the Supply Chain Security Management System achieves its expected outcomes
Directing and supporting continual improvement
Establish and communicate a disaster recovery and business continuity policy
Ensuring that Supply Chain Security Management System objectives and plans are established
Ensuring that the responsibilities and authorities for relevant roles are assigned
Planning
This is the process were organizations shows that it has defined strategic objectives and guiding principles for the Supply Chain Security Management System as a whole. The objectives of a Supply Chain Security Management System are the expression of the intent of the organization to treat the risks identified and/or to comply with requirements of organizational needs. The planning objectives must:
Be consistent with disaster recovery and business continuity policy
Take into account the minimum level of products and services that is acceptable to the organization to achieve its objectives
Create and apply metrics
Take into account applicable requirements
Be reviewed constantly and updated as appropriate
Support
The day-to-day management of an effective business continuity management system relies on using the appropriate resources for each task. These include competent staff with relevant (and demonstrable) training and supporting services, awareness and communication. This must be supported by properly managed documented information.
Both internal and external communications of the organization must be considered in this area, including the format, the content and the proper timing of such communications. This requirement includes:
Business Impact Analysis (BIA): This activity enables an organization to identify the critical processes that support its key products and services, the interdependencies between processes and the resources required to operate the processes at a minimally-acceptable level.
Risk assessment: The goal of this requirement is to establish, implement, and maintain a formal documented risk assessment process that systematically identifies, analyzes, and evaluates the risk of disruptive incidents to the organization.
Disaster Recovery and Business continuity strategy: After requirements have been established through the BIA and the risk assessment, strategies can be developed to identify arrangements that will enable the organization to protect and recover critical activities based on organizational risk tolerance and within defined recovery time objectives. Experience and good practice clearly indicate that the early provision of an overall organizational BCM strategy will ensure BCM activities are aligned with and support the organization's overall business strategy. The strategy should be an integral component of an institution's corporate strategy.
Business continuity procedures: The organization should document procedures (including necessary arrangements) to ensure continuity of activities and management of a disruptive incident. The procedures have to:

Establish an appropriate internal and external communications protocol
Be specific regarding the immediate steps that are to be taken during a disruption
Be flexible to respond to unanticipated threats and changing internal and external conditions
Focus on the impact of events that could potentially disrupt operations; be developed based on stated assumptions and an analysis of interdependencies
Be effective in minimizing consequences through implementation of appropriate mitigation strategies.

Exercising and testing: To ensure that disaster recovery and business continuity procedures are consistent with their objectives, an organization should test them regularly. Exercising and testing are the processes of validating business continuity plans and procedures to ensure the selected strategies are capable of providing response and recovery results within the time frames agreed to by management
Performance evaluation
Once the Supply Chain Security Management System is implemented, ISO 28000 requires permanent monitoring of the system as well as periodic reviews to improve its operation:
Monitoring the extent to which the organization's business continuity policy, objectives and targets are met
Measuring the performance of the processes, procedures and functions that protect its prioritized activities
Monitoring compliance with this standard and the business continuity objectives
Monitoring historical evidence of deficient Supply Chain Security Management System's performance conducting internal audits at planned intervals
Evaluating the results of the performance evaluations with senior  management
Improvement
Continual improvement can be defined as all the actions taken throughout the organization to increase effectiveness (reaching objectives) and efficiency (an optimal cost/benefit ratio) of security processes and controls to bring increased benefits to the organization and its stakeholders. An organization can continually improve the effectiveness of its management system through the use of the business continuity policy, objectives, audit results, analysis of monitored events, indicators, corrective and preventive actions and review. If you follow the work plan provided with the Template and complete all of the activities you will be able to pass an ISO28000 audit. The options to acquire the template include:
Order Security Manual Template Download Sample