IT Infrastructure Management -- Best Practices

Electronic forms make implementation of a highly productive IT function much easier. All of the forms meet mandated compliance requirements including FISP-199, HIPAA, ISO and recent state and local legislation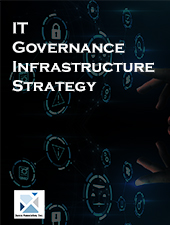 IT Infrastructure Management -- Best Practices - In many enterprises, CIOs are perceived as mere technology managers, while in reality they should be viewed as business leaders. The CIO's focus is on reducing costs and improving profitability through the strategic usage of IT. It is critical for the Information Technology organization to get out of the traditional transactional mode.
When the CIO has the right infrastructure in place, then the CIO can more easilyt direct the strategic of the enterprise, and shape its destiny. The CIO brings his own perspective, and without IT, you cannot build a robust and business.
The CIO Infrastructure, Strategy and Charter Template is set of best practices that CIOs and IT Managers can implement to create a strategy and manage in the ever changing business environment.
Or you can get one of the CIO Infrastructure Bundles which include the template plus policies, electronic forms, and job descriptions.
The policies have just been updated to comply with all mandated requirements and includeforms that can be E-mailed, filled out completely on the computer, routed and stored electronically. A totally solution that uses technology at its best. Th policies included
Backup and Backup Retention Policy
Blog and Personal Web Site Policy (Includes electronic Blog Compliance Agreement Form)
BYOD
Incident Communication Plan Policy (Updated to include social networks as a communication path)
Internet, e-mail, Social Networking, Mobile Device, Electronic Communications, and Record Retention Policy (Includes 5 electronic forms to aid in the quick deployment of this policy)
Mobile Device Access and Use Policy
Patch Management Policy
Outsourcing Policy
Record Classification, Management, Retention, and Destruction policy
Sensitive Information Policy (HIPAA Compliant and includes electronic Sensitive Information Policy Compliance Agreement Form)
Service Level Agreement (SLA) Policy Template with Metrics
Social Networking Policy
Telecommuting Policy
Travel and Off-Site Meeting Policy
Read On Order IT Governance Strategy Download Sample
IT Job Descriptions Meet Compliance Requirements
ISO (including 27031), HIPAA, Sarbanes-Oxley, PCI-DSS, California SB 1386, and Cobit requirements are meet by Internet and IT Position Descriptions. . .
The Internet and IT Position Descriptions HandiGuide™ was just completed and is over 900 pages; included are sample organization charts, a job progression matrix, and 324 IT job descriptions. The book also addresses Fair Labor Standards, the ADA, and is in a new easier to read format.
You can purchase either the book with all of the job descriptions in PDF format or the book in PDF format and the job descriptions in MS WORD format, or just the job description in MS WORD format.
Order IT Job Description HandiGuide Sample Description Download TOC