Million dollar CIOs prove success is more than IT Skill
Top paid CIO are focused on the business not technology - a failure like the Web based Health Care Exchange System could not occur at companies in the private sector who have the best IT Business Managers in a leadership role
Million dollar CIOs prove success is more than IT Skill - Janco has just completed its annual review of the top paid CIOs in publicly traded companies. This group of CIO is each paid over $1,000,000. Two of the individuals who were on last year's list have had their roles expanded so they have more than IT within their scope of responsibilities (the Aetna and American Express CIOs and are excluded from the list for that reason).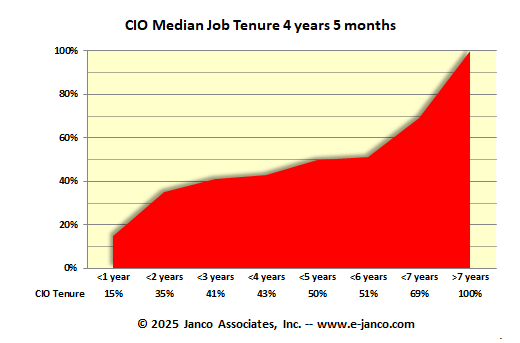 Updated to the latest data. Read On...
Top paid executives earn their keep every day by being both visionary and pragmatic. The CEO of Janco Associates, Mr. Victor Janulaitis said, "We have found that the most highly valued and well compensated CIOs have some common characteristics. The primary one is that they are business focused and understand what technology can do and what technology's limitations are. " He added, "They would not allow a disaster like the Web Based Health Care Exchange System where the focus was on 'open source' and the technologies around it and not the core issues of information gathering, options presentation, and enrollment processing. " 
Highest Paid CIOs in publicly traded companies as reported to the SEC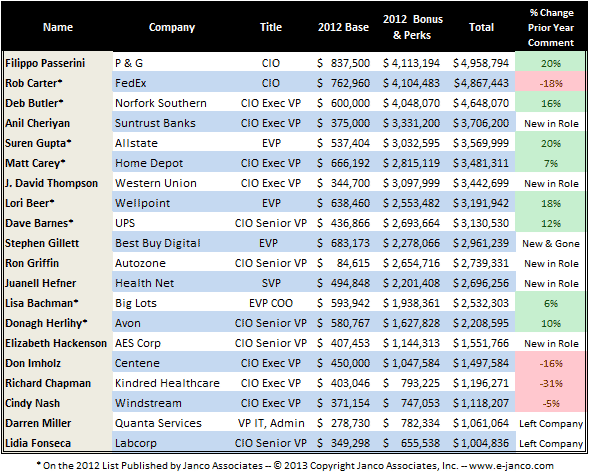 Highest Paid CIOs in publicly traded companies as reported to the SEC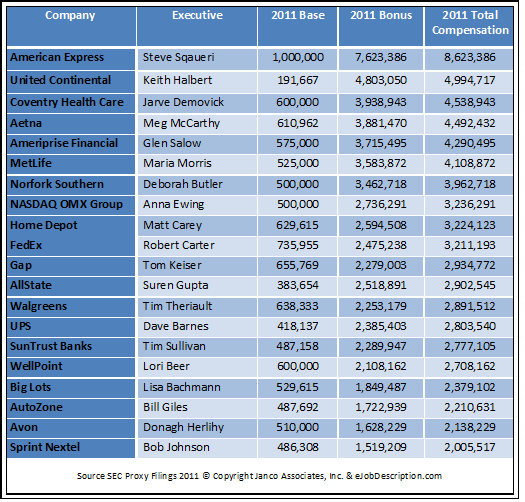 Successful CIO Characteristics
Both visionary and pragmatic - A successful CIO promotes broad technology agenda to help the business profit from leading-edge initiatives. At the same time as a pragmatist, a CIO deals with the realities of the business. The pragmatist also facilitates the productivity of current IT solutions. The CIO focuses on minimizing cost and maximizing results, in addition they help the drive to improve customer and product/service of the enterprise.
Focus on ROI improvement of IT - Successful CIOs find new ways to help customers and the organization profit from how data is used while focusing on managing budgets and processes to maximize productivity.
Inspire the enterprise and expand the business impact of IT –Successful CIOs have expertise in both the business and technical facets of their role. CIOs interact with the enterprise and its executive team as enterprise leaders to drive new technology based business solutions.
Order Salary Survey Download Sample Provide Data