Security Compliance became easier with the latest Security Manual update
Security Manual Template meets the latest mandated compliance requirements
Firewall Policy Security Checklist included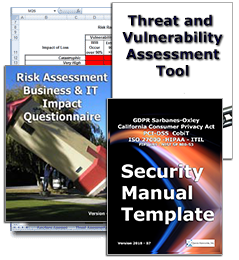 Security Compliance just became easier with the latest Security Manual template - Janco Associates, Inc. has just released it latest update to its Security Infrastructure product line. The Security Manual Template (Version 10.3)  has been updated with the latest Electronic Forms for BYOD and added a Firewall Policy Security Checklist. The CEO of Janco, Victor Janulaitis said, "In a recent survey by a leading research firm, it was found that over 30% of all organizations do not meet the entire universe of compliance requirements, which include:
Broadly applicable regulations like SOX, HIPAA and GLB;
Industry specific requirements like ISO, FISMA and HIECH;
Key state laws like those in California, Nevada and Massachusetts; and
International laws for the EU, Canada and Mexico. "
Janulaitis added. "In Janco's continuing effort to provide enterprises of all sizes the infrastructure tools necessary to meet ever increasing compliance requirements, Janco has expanded the Security Manual Template and provided a vehicle to integrate Janco's risk assessment with a CIO's daily responsibilities. " Janco's CEO added, "Our latest electronic forms use Adobe's state of the art FormCentral to allow organizations to capture and assess all manner of security and compliance risk via a cloud based application. "
The ELECTRONIC forms included with the Security Manual template are: Blog Policy Compliance Agreement, BYOD Access and Use Agreement, Company Asset Employee Control Log, Email Employee Agreement, Employee Termination Procedures and Checklist, FIPS 199 Assessment, Internet Access Request Form, Internet and Electronic Communication Employee Agreement, Internet use Approval, Mobile Device Access and Use Agreement, New Employee Security Acknowledgment and Release, Preliminary Security Audit Checklist, Security Access Application, Security Audit Report, Security Violation Procedures, Sensitive Information Policy Compliance Agreement, Server Registration, Social networking Policy Compliance Agreement, Telecommuting Work Agreement and Threat and Vulnerability Assessment Inventory (Adobe FormCentral and PDF).
The CEO said, "Every CIO needs to be concerned about security and protection of enterprise information assets. With this template, the CIO can quickly implement a program that meets the requirements that auditors are demanding and executive management is expecting. " In addition, "This proven tool is the best in the marketplace today. "
All of Janco's products use the latest technology and are delivered electronically. The firm includes in its customer base organizations from over 100 countries and across most industry segments.
Janco is an international consulting firm that follows issues that concerns CIOs and CFOs and publishes a series of IT and business infrastructure HandiGuides™ and Templates including a Disaster Recovery/Business Continuity Template, Security Template and IT Salary Survey.
Security Manual Template purchase options
Order Security Manual Template Download sample Version History