BYOD expected to reinforce IT jobs
BYOD is ruling the requirements of IT sector. The BYOD Tech based job positions are in highest demand, according to the analysis of recent salary survey from Janco Associates.
"The professionals having knowledge and efficiency in working with BYOD, either in support, development or implementation, have their increased value in the market", said M. Victor Janulaitis, CEO of Janco Associates.
Janco Associates organized a survey combining about 1000 companies. It concluded that IT compensation and demand remained flat, with byod-related positions bucking the trend. BYOD is impacting on all sorts of IT positions from help desk to mobile app development, compliance and security.
With BYOD, there are two specific and hot job titles, Supervisor of BYOD desktop support and Supervisor of hardware installation (BYOD). BYOD is emerging as one of the brighter spots in the industry.
The IT job market grew by 74,900 in 2013 from 62,500 in 2012. It was concluded by Bureau of Labor Statistics.
"This growth is not enough to employ the number of IT graduates", said Janulaitis.
Net Change in Number of IT Pros Jobs
---

IT Hiring Slows


The latest data for more read on...
Data points to a slowing in the hiring of IT Professionals with 21,500 jobs added in the last 3 months. That is just reoveriing from the "big tech" layoffs in the latst quarter of 2022
Note - data includes the adjustments by the BLS to the initially reported data.

---
Labor Force Participation
Labor Participation Rate in the low 60's
Inflation is pushing more people back into the active labor market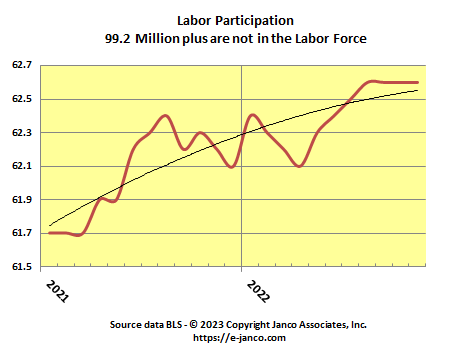 99.2 million people in the U.S. are not counted in the labor force - see reasons why not working.
Historic IT Job Market Size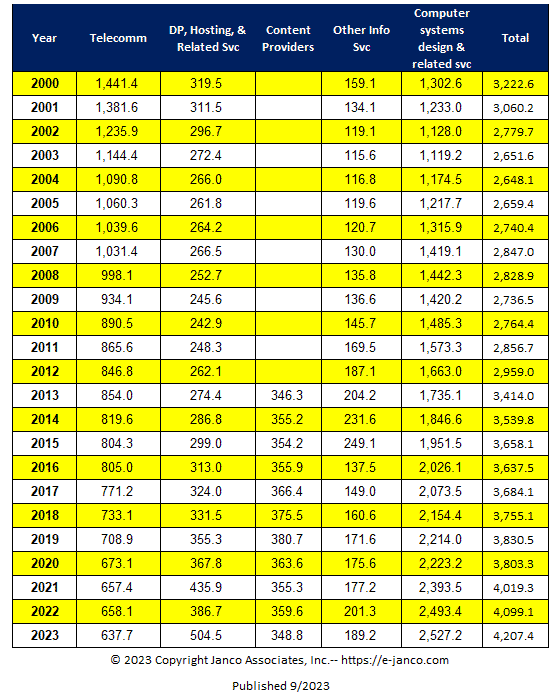 Data complied by Janco Associates with data as of September 2023
Order IT Hiring Kit Download IT Hiring Kit TOC