Chief Digital Officer and a bundle of C-Level Job Descriptions released
Rise in importance of technology drives my organizations to create C-Level positions to leverage technology across all business functions
Janco Associates has just released a full and detailed job description for the Chief Digital Officer. At the same time Janco has created a bundle of seven (7) C-Level job descriptions that cover all of positions which are technology related and report to the highest level within organizations.
Order Chief Digital Officer Job Description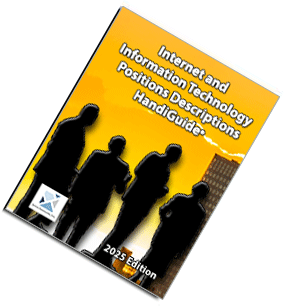 The CEO of Janco, Victor Janulaitis said, "Management and direction of technology are no longer tasks that are based in an ivory tower operation. Today technology is ubiquitous with organizational strategies and operations thus the role of CDO is typically taken by a seasoned general manager. The demand for someone to manage the rapidly changing digital sector in business often is beyond the scope and capabilities of the CIO, thus a new business role is being created - the Chief Digital Officer. "  The CEO added, "We have seen an increase in technology based C-Level positions from CIO to Chief Security Officer (CSO) and Chief Compliance Officer (CCO). As demand has increased for these roles there has been an increase in the number of organizations that need precise job descriptions for them. Thus, we have combined seven (7) of our C-Level job descriptions into a single package and distribute them digitally. "
The C-Level job description bundle is available in MS WORD and PDF formats. The seven job descriptions are over 30 pages in length and include: Chief Information Officer (CIO);  Chief Information Officer (CIO) - Small Enterprise; Chief Security Officer (CSO); Chief Compliance Officer (CCO); Chief Mobility Officer; Chief Technology Officer (CTO); and Chief Digital Officer. They can be acquired from Janco's web site at https://www.e-janco.com/jobdescriptions.html. This is one of 10 job description bundles that the company offers in addition to it IT Position Descriptions HandiGuide with over 260 technology based job descriptions. The other bundles are: Compliance Management; e-Commerce, Wireless, and Internet; Enterprise Architecture; Enterprise Resource Planning (ERP); Disaster Recovery and Business Continuity; IT Service Management - SOA; Metrics, Service Level Agreement & Outsourcing; Security Management; and typical mid-sized IT organization.
Order C-Level Job Descriptions
The Job Descriptions have been updated to be compliant with PCI-DSS, Sarbanes-Oxley, HIPAA, CobiT, and the ITIL standards. The job descriptions are all structured to focus on "Best Practices" as defined by the IT Productivity Center to meet the requirements of World Class Enterprises.
More information on T Position Descriptions HandiGuide, including a full copy of the table of contents can be obtained by following the links
A sample job description can be found at
https://www.e-janco.com/job_sample.htm