BYOD Certifications: Golden Ticket in IT
As BYOD goes mainstream in the workplace, the stock of mobile-savvy IT pros is on the rise. Businesses need employees who understand how mobile and cloud technologies are changing the modern enterprise
A recent salary survey from IT management and consulting firm Janco Associates found that byod-related jobs are, indeed, among the most sought after in the tech industry. Here, Janco Associates CEO Victor Janulaitis explains what a BYOD certification program would look like, how such certifications could give job seekers an edge, and what it means for modern IT departments:
What impact does BYOD have on IT departments today?
The biggest impact comes from the number of devices that have to be supported. IT has to manage a program that handles iOS, Android and Windows operating systems that can be found on tablets and smartphones - all of which can vary in screen size. The impact on IT is that on top of the normal universe of applications they have to manage, they now have to make sure that they can support all of them across different platforms. This creates an additional workload for the IT department.
What are the top skills that IT pros need to manage a BYOD program?
One of the top skills is the ability to design responsive web pages for employees to access company information on their devices. A responsive application is one that will adjust the data that has to be displayed with the screen size of any device. It's a skill that a lot of people don't have. It's almost an artist's skill, the ability to visualize what something is going to look like on different screens.
Cloud computing is another area that IT pros working with BYOD should familiarize themselves with. Some organizations are putting all of their applications in the cloud. This way, when an employee accesses information from their device, the processing doesn't occur on the device itself, enabling IT to revoke access to company data, should the device be lost, without wiping the employee's personal data.
Walk me through the components of what a BYOD certification program should look like: 
The foremost thing that an IT pro would need is a full understanding of the security and compliance for regulations for their state. For example, customer-facing industries, such as retail in the state of California, are required to notify all of their customers within a certain time period when a security breach has occurred. In the case that an employee's personal device is lost or stolen, IT would need to be able to know how to act in the case that customer data could be accessed through the device. Additionally, there would need to be security for sensitive company information, such as customer lists, price lists, proposals and anything deemed a corporate asset. A certification program would need to go over various ways to ensure that information is secure.
Aside from security, IT needs to have a plan in place to deal with major events that will stress the system, such as a major snowstorm that closes businesses. How is the business going to operate with most of their employees working remotely from their own devices? In this situation, people are going to try to access the systems from all sorts of locations, and IT will need the capacity to deal with that level of activity.
Net Change in Number of IT Pros Jobs
---

IT Hiring Slows


The latest data for more read on...
Data points to a slowing in the hiring of IT Professionals with 21,500 jobs added in the last 3 months. That is just reoveriing from the "big tech" layoffs in the latst quarter of 2022
Note - data includes the adjustments by the BLS to the initially reported data.

---
Labor Force Participation
Labor Participation Rate in the low 60's
Inflation is pushing more people back into the active labor market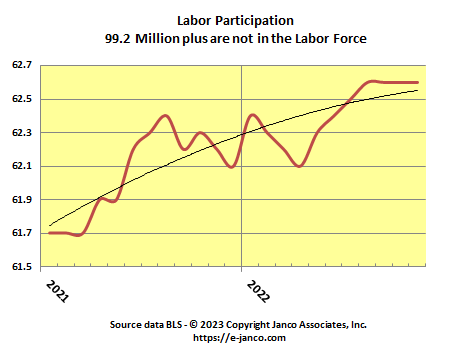 99.2 million people in the U.S. are not counted in the labor force - see reasons why not working.
Order IT Hiring Kit Download IT Hiring Kit TOC