IT professionals and computer science based jobs hiring explodes
IT job market improved in October as 40,200 new IT jobs were added in the last 3 months. For 2014 there have been 111,100 jobs added
Park City - UT – IT professionals and computer science based jobs hiring explodes - The overall unemployment rate improved to 5.8% and the job market participation rate rose to 62.8%. The CEO of Janco Associates, Inc. , Mr. M V Janulaitis said, "In the case of computer science and IT professionals, 9,500 jobs were added in October, with adjustments 40,200 jobs were added in the last 3 months, and increased by 111,100 jobs in 2014. That is real explosive growth. In our professional opinion, the recovery is in place for IT Pros. " Mr. Janulaitis said, "Hiring is across the board, as many CIOs have been given the green light to start hiring. " Janulaitis added, "Based on interviews of 95 CIOs in the last several weeks, we find that hiring is on a definite upswing and there is a definite shortage of IT pros who deal with cloud based applications and mobile computing. In support of this, as we are capturing data for our next IT salary survey which is to be published in January, we are finding that there is an upward pressure on compensation for the first time since 2002. "
Historic IT Job Market Size - Over 4.19 Million Employed as IT Pros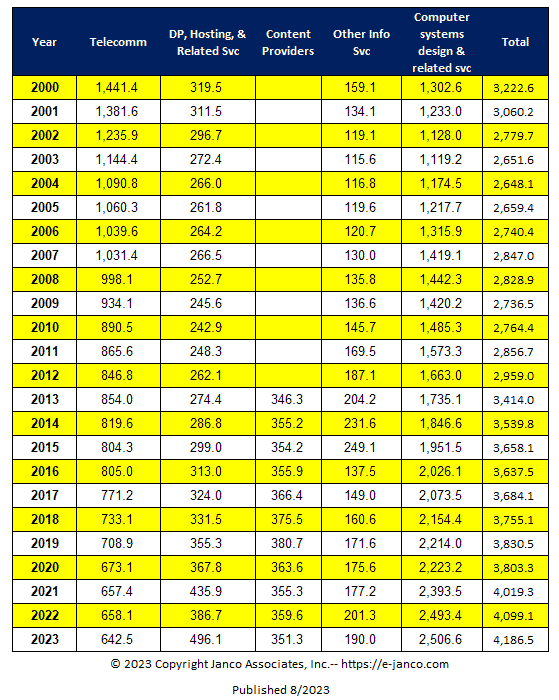 This is not the original data that was published.
It has been updated with data complied by Janco Associates with data as of September 2023.
Labor Participation Rate in the low 60's
Inflation is pushing more people back into the active labor market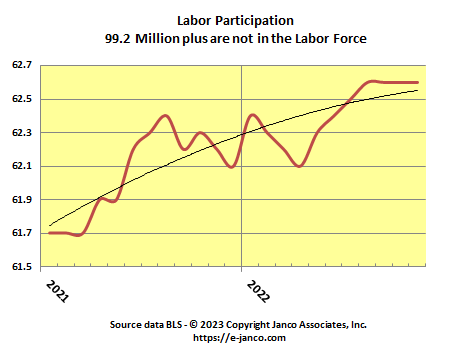 99.2 million people in the U.S. are not counted in the labor force - see reasons why not working.
From a review of the latest BLS data, Janco has found that there was a net increase of 40,200 jobs in the last three months. The three month moving average for new IT jobs is now showing explosive job growth.
The labor market participation rate remains rose slightly as more individuals have started to look for jobs. The CEO said, "The over-all labor participation rate rose back to where it was last year at this time - a good sign. "
---

IT Hiring Slows


The latest data for more read on...
Data points to a slowing in the hiring of IT Professionals with 21,500 jobs added in the last 3 months. That is just reoveriing from the "big tech" layoffs in the latst quarter of 2022
Note - data includes the adjustments by the BLS to the initially reported data.

---