Practical Guide to Security
A serious data breach brings monetary damage in its many forms: business disruption, bad publicity, stiff ones for noncompliance, and undermined customer confidence. But most damaging of all is the trouble that it creates when it comes to signing up new customers. A tarnished reputation is a big objection for sales and business development to overcome. That's why data security in general and database security in particular are a crucial part of any company's overall corporate health.
The Security Manual Template has just been updated to include the latest electronic forms for Risk and Threat Assessment Forms. With these new forms in place you will easily be able to conduct an assessment of your enterprise's exposures and then implement solutions to mitigate the risks.
Download This Complete and Customizable Security Framework
Each component of this kit comes in editable Microsoft Office templates, is customizable to the specific needs of your business and contains clear instructions and examples. The tools and guides in this package follow the following four steps:
Step 1. Conduct Business Impact Analysis
Step 2. Assess Threats and Vulnerabilities
Step 3: Customize Your Security Manual Template
Step 4: Enforce Security Policies and Procedures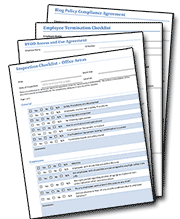 The forms included are:
Application & File Server Inventory
Blog Policy Compliance Agreement
BYOD Access and Use Agreement
Company Asset Employee Control Log
Email Employee Agreement
Employee Termination Procedures and Checklist
FIPS 199 Assessment
Internet Access Request Form
Internet and Electronic Communication Employee Agreement
Internet use Approval
Mobile Device Access and Use Agreement
Mobile Device Security and Compliance Checklist
New Employee Security Acknowledgment and Release
Outsourcing and Cloud Security Compliance Agreement
Outsourcing Security Compliance Agreement
Preliminary Security Audit Checklist
Privacy Compliance Policy Acceptance Agreement
Risk Assessment (pdf & docx)
Security Access Application
Security Audit Report
Security Violation Procedures
Sensitive Information Policy Compliance Agreement
Server Registration
Social networking Policy Compliance Agreement
Telecommuting Work Agreement
Text Messaging Sensitive Information Agreement
Threat and Vulnerability Assessment Inventory
Work From Home Work Agreement
Plus more
The Security Manual Template provides all the essential elements of a complete security manual. Detailed language addressing more than a dozen security topics is included in this 240-page Microsoft Word document, which you can modify as you see fit to meet your business requirements. The template includes sections on critical topics such as:
| | |
| --- | --- |
| Risk Analysis | Physical Security |
| Staff Member Roles | Facility Design |
| Documentation | Data & Software Security |
| Network Security | Contingency Planning |
| Incident Reporting | Outsourced Services |
| Access Control | Waiver Procedures |
Order Security Manual Template Download Sample