Many CIOs are geared to improve infrastructure

IT Infrastructures are being stretched to their limits by the advance of the new multi-platform applications of Omni Commerce and ERP. Janco has updated the IT Infrastructure Strategy and Charter template and added selected products to create the Omni Commerce Strategic Planning Toolkit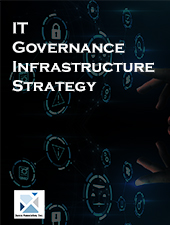 Many CIOs are geared to improve infrastructure - Today's businesses live and die by the performance of their IT infrastructure. When key business processes live online in data centers and customers as well as employees expect access to applications at any time and from any device. Supporting this "new normal" state requires a world of unending scale with more resource heterogeneity, more virtualization and more cloud computing to increase flexibility, scalability and agility.

IT is business-critical, and if your infrastructure is not continuously operating at peak performance and with world class reliability, the mission-critical applications that define your customers' experiences and drive revenue will be threatened. This means that if your organization is unable to go live quickly, confidently launch new products or innovative new apps and run them with dial tone availability, your competitive edge will be in jeopardy. Not only that, but if your approach is to accommodate increased demand by over provisioning capacity, your costs either are, or soon will be, unsustainable.

Janco has just updated its IT infrastructure Strategy and Charter Template to include a specific section for Omni Commerce and ERP applications. This is bundled with several of Janco's other products to create the Omni Commerce Strategic Planning Toolkit.

The CEO of Janco Associated said, "Over the past several months there has been significant movement by many enterprises to update their infrastructure to operate more effectively in the multi-platform environment of desktops, laptops, tablets, and smartphones. Driving this has been the rapid proliferation of BYOD and web centric development of new application approaches. "  He added, "SmartPhones and tablets are changing the way the way people and business browse the Internet, shop, provide service and communicate with suppliers, customers and associates. "

The update to the IT infrastructure Strategy and Charter Template addresses critical new strategic and tactical implications being placed on organizations by mobile computing users - both internal and external. This release is part of Janco's continuing effort to create a set of standard 'Best Practices' that organizations can implement to meet the challenges they face as they adjust to the new ways that technology is being utilized by all levels of the organizations its users,
The CEO said, "As the use of personal mobile devices, social networking, and compliance requirements expand, organizations are faced with a dilemma. How can they balance business continuity, security, and compliance needs in an ever more complex operating environment, while supporting increased business demands for more technology by an increasingly more technology literate user base?" He added, "Janco's templates and toolkits with their policies, electronic forms, and job description address those requirements. "

The toolkit addresses infrastructure strategic planning requirements for Omni Commerce and ERP. Included are the top best practices when implementing a world class infrastructure including: business champion, cloud based applications, prototyping, first to market, social media, internal and external users, device independent applications, new web page design concepts, and graphical displays.

The components of the toolkit include the IT Governance Infrastructure, Strategy, and Charter Template; IT Infrastructure Electronic Forms; IT Infrastructure Policies; Enterprise Resource Planning - ERP - Job Description Bundle job descriptions; and 3 months of free update service. The price of the product ranges from $699 to $1,299 with extended update services available at an additional cost.

Read on omni-Commerce. . .
Order Omni Commerce Planning Toolkit

Download Selected Pages Omni Commerce Strategy
---
IT Infrastructure Policy Bundle Updated
CIO IT Infrastructure Policy Bundle has every policy you need to meet the latest mandated compliance requirements. All of the policies below are included as individual MS Word files and a single PDF file. Electronic forms are all individual documents that are easily modifiable.
Read On Order IT Infrastructure Policies Download Selected Pages