Is It Time For CIOs To Be More Assertive?
Even more Machiavellian. one expert recommends CIOs channel their inner manipulator. As noted in the CIO New Zealand,  The Wolf in CIO's Clothing: A Machiavellian Strategy for Successtul IT Leadership. "Machiavelli implied one is either a predator or prey and the animal the leader closely resembles determines his or her position in the food chain. "
Nunno recommends that, based on her analysis of highly successful CIOs, that they should go all out and model their behavior on predators to avoid being prey. The wolf is "an ideal balance of an intelligent, social creature that can inspire loyal followership and create group affinity; and the ruthless predator that can lead a pack of strong fighters, win in a competitive environment and command a large territory," Nunno said, adding, "Machiavellians know there is no safe middle ground in leadership. By going to extremes, a wolf CIO can help bring a dark enterprise to the light side. "
The CIO of Beth Israel Deaconess Medical Center, is all for taking this stance. Admitting that "CIOs are typically not very popular and are not known for their charismatic leadership," he sees it as highly necessary as he faces a host (no medical pun intended) of new regulatory dictates in health care (i.e. , ICD 10, Meaningful Use, HIPAA updates), all designed to make the medical industry more responsive and efficient. In order to implement these changes, he believes he's going to have to be a lot more assertive:
Growth of IT Job Market (updated)
The number of IT jobs not filled now is just over 100K. Janco's initial forecast for the number of new IT jobs to be added in 2023 is between 20K-30K. Overall that is a flattening of the long term growth rate pattern of IT job market.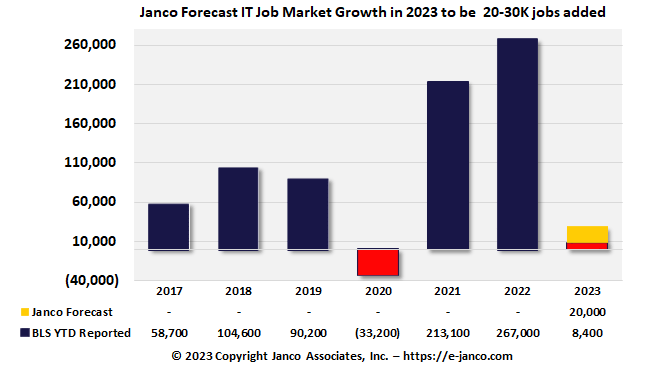 Data complied and forecast updated by Janco Associates with data as of September 2023
"Over the next few months, I expect my waning popularity to wane even further. I will lose the popularity battle. However, when the regulatory mandates are done and the institution's longevity is assured, my career will be intact. Losing the popularity battle but winning the career war for the benefit of the institution sounds like right long term strategy but certainly will require strength of will, a thick skin, and constant communication. "
These challenges are not limited to health care CIOs. They apply to any CIO facing enterprise-wide change, whether it relates to implementing big data initiatives, GRC applications, or any kind of digital transformation.
Aside: I'm still not sure how I feel about Halamka's joke about the difference between an introverted CIO from an extroverted CIO. "An introverted CIO stares at his shoes. An extroverted CIO stares at your shoes. "
Maybe there's some value in a take-no-prisoners attitude. Of course, you've got to be really good at what you do to make that work. But there is clearly a reward for success, indicated by Rachael King's report in the Wall Street Journal showing Janco Associates list of the highest paid CIOs. To get on the list, you had to make at least $1 million in compensation.
A lot of household names on the list, which included the names of the CIOs at FedEx (almost $5 million in compensation), Norfolk Southern ($4.6 million), and Procter & Gamble (a little more than $4 million). According to the article, Janco's CEO said it's worth paying millions for the best IT leaders because the cost of failure in information technology projects is so high.

In the last three (3) month the IT Job market grown by 21,500. This chart is not the originally published one, rather it is updated with the current data based on the analysis by Janco Associates, Inc. For the latest IT Employment Data click here.
---
But chances are that the CIOs on the list also didn't care about their popularity and were assertive. They were no more staring at shoes than worrying about stepping on toes.
Order Salary Survey Download Sample Provide Data