BYOD IT Skills in High Demand
ByTom Kaneshige
The rise of BYOD is making an impact on a variety of IT positions, from help desk to mobile app development to security and compliance. In fact, according to one research firm, its one of the only bright spots on the IT jobs landscape.
If you think BYOD is more media hype than reality, think again. The mega trend is making a very real impact on IT jobs. Tech job positions in highest demand are those associated with BYOD, according to results of a recent salary survey from Janco Associates.
"If you have knowledge and ability to work with BYOD, either in implementation, support or development, this increases your value," says CEO M. Victor Janulaitis at Janco Associates. "It's the hot skill of the day. "
In Janco Associates's survey of nearly 1,000 companies, IT compensation and demand remained largely flat, with byod-related positions bucking the trend. BYOD is making an impact on all sorts of IT positions, from help desk to mobile app development to security and compliance. Here are two specific hot job titles: supervisor of hardware installations (BYOD) and supervisor of BYOD desktop support.
Indeed, BYOD is one of the only bright spots. The IT job market grew by 74,900 in 2013, slightly better than 62,500 in 2012, according to the Bureau of Labor Statistics. The growth is "not enough to employ the number of IT graduates from U.S. universities or to increase demand," Janco Associates says, adding, "Positions in highest demand are all associated with the quality control, BYOD implementation, and service level improvement. "
There's no question BYOD has far reaching implications.
App developrs are busy redesigning Web applications so that information can be rendered on BYOD smartphones and tablets touting an array of screen sizes. BYOD is opening doors to cloud services and shutting them on legacy desktop software. BYOD has even breathed new life into the virtual desktop.
BYOD has led to blockbuster years for mobile device management (MDM) vendors, which has, in turn, led to a fury of market consolidation with giant enterprise tech companies wading into the MDM space. Most recently, VMware acquired AirWatch for $1.175 billion in cash and $365 million in installment payments and assumed equity. This puts IT workers with MDM skills in a good position.
In fact, entire architectures might have to be redesigned to support BYOD. "We're seeing companies look at things like zero trust models in which every device is assumed compromised, [where] there is no concept of a trust network anymore.
Moreover, Janulaitis says he expects to see byod-related certifications coming soon. Certifications typically trail a hot job skill by two to three years, he says, and BYOD has been de rigueur for a couple of years.
Net Change in Number of IT Pros Jobs
---

IT Hiring Slows


The latest data for more read on...

Note - data includes the adjustments by the BLS to the initially reported data.

---
Labor Participation Rate in the low 60's
Inflation is pushing more people back into the active labor market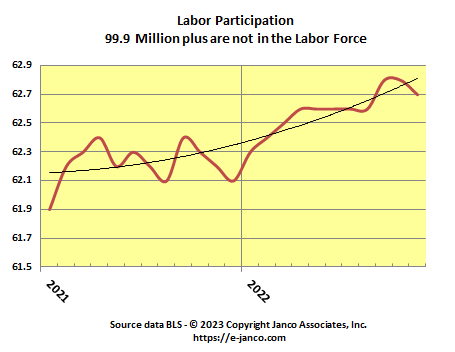 99.9 million people in the U.S. are not counted in the labor force - see reasons why not working.
Order IT Hiring Kit Download IT Hiring Kit TOC