Security Forms
Individual Forms to Augment any existing set of Security Policies and Procedures
Come in MS Word, and PDF formats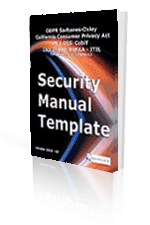 Securing a typical business network and IT infrastructure demands an end-to-end approach with a firm grasp of vulnerabilities and associated protective measures. While such knowledge cannot stop all attempts at network incursion or system attack, it can empower IT professionals to eliminate general problems, greatly reduce potential damages, and quickly detect breaches.
With the ever-increasing number and complexity of attacks, vigilant approaches to security in both large and small enterprises are a must. The Security Forms in this offering meet and exceed those requirements.
Comprehensive, Detailed, and Customizable
By now everyone has implemented a set of polices and procedures to address mandate security requirements and a specific privacy policy. The forms in the Security Forms bundle augment and improve the overall productivity of the process that are in place already.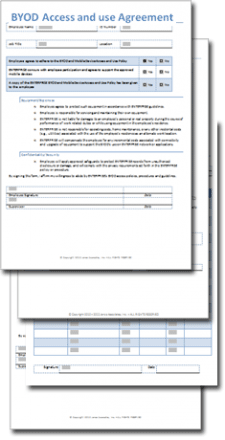 The forms included are:
Application & File Server Inventory
Blog Policy Compliance Agreement
BYOD Access and Use Agreement
Company Asset Employee Control Log
Email Employee Agreement
Employee Termination Procedures and Checklist
FIPS 199 Assessment
Internet Access Request Form
Internet and Electronic Communication Employee Agreement
Internet use Approval
Mobile Device Access and Use Agreement
Mobile Device Security and Compliance Checklist
New Employee Security Acknowledgment and Release
Outsourcing and Cloud Security Compliance Agreement
Outsourcing Security Compliance Agreement
Preliminary Security Audit Checklist
Privacy Compliance Policy Acceptance Agreement
Risk Assessment (pdf & docx)
Security Access Application
Security Audit Report
Security Violation Procedures
Sensitive Information Policy Compliance Agreement
Server Registration
Social networking Policy Compliance Agreement
Telecommuting Work Agreement
Text Messaging Sensitive Information Agreement
Threat and Vulnerability Assessment Inventory
Work From Home Work Agreement
Plus more
Order Security Forms Download Selected Forms
All of the forms are provided as individual MS WORD documents that are easily customized to fit within the existing environment. These documents are provided in Data Protection mode so they can be distributed and collected electronically. In addition, there is a single PDF document which contains all of the forms and in a format that also the company to copy of form and be distributed manually.
See also - Full Set of all Infstructure Forms