Security Policy and Procedure Manual Template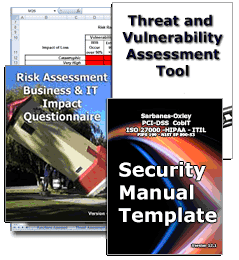 Includes PCI DSS Audit Program


The Security Policy and Procedure Manual for the Internet and Information Technology is over over 230 pages in length. All versions of the Security Manual template include both the Business & IT Impact Questionnaire and the Threat & Vulnerability Assessment Tool (both were redesigned to address Sarbanes Oxley and CobiT compliance). In addition, the Security Manual Template PREMIUM Edition contains 16 detail job descriptions that apply specifically to security and Sarbanes Oxley, ISO 27000 (ISO27001 and ISO27002),CobiT, PCI-DSS, and HIPAA. Data Protection is a priority.
The first issue revolves around the content and structure of the policies themselves: Are they complete? Are they fully up to date? Do they reflect your needs? This list of issues is extensive!
There are a number of possible routes available when creating the policies, ranging from off the shelf purchase, to carefully crafting every clause and sentence.
The most cost effective way is often to procure a set of pre-written policies, and then tailor as necessary to meet specific cultural needs: why re-invent the wheel and proceed down a more complex route than necessary?
When adopting this course, or indeed, when simply redeveloping existing polcies, a number of less direct factors should also be taken on board - how will the policies sit with ISO17799 for instance (see later)?
The set of policies available here arecomprehensive, and are also fully compliant with ISO, HIPAA, SOX, COBIT, and other standards.
Security Policy is Comprehensive, Detailed and Customizable for Your Business
The IT Security Policy Manual Template provides CIOs, CSOs, and IT Managers all of the essential materials with real live useable text for a complete security manual. Detailed language addressing more than a dozen security topics is included in a 230 plus page Microsoft Word document, which you can modify as much or as little as you need to fit your business requirements. The template includes sections on critical topics like:
Risk analysis
Staff member roles
Physical security
Electronic Communication (email / Smartphones)
Blogs and Personal Web Sites
Facility design, construction and operations
Media and documentation
Data and software security
Network security
Internet and IT contingency planning
Insurance
Outsourced services
Waiver procedures
Employee Termination Procedures and Forms
Incident reporting procedures
Access control guidelines
PCI DSS Audit Program as a separate document
Massachusetts Compliance Check List
Security Compliance Check List
Order Security Manual Template Download sample Version History
The Security Manual Template can be acquired as a stand alone item (Standard) or in the Premium or Gold sets:
Security Manual Template - Standard Edition
Business and IT Impact Questionnaire
Threat and Vulnerability Assessment Toolkit
Security Management Checklist
Full Detail Policies for

Blog and Personal Website Policy
Internet, Email, Social Networking, Mobile Device, and Electronic Communication Policy
Mobile Device Policy
Physical and Virtual File Server Policy
Sensitive Information Policy
Travel and Off-Site Meeting Policy

Job Descriptions for the Chief Compliance Officer, Chief Security Officer, Data Protection Officer, Manager Security and Workstations, Manager WFH Support, Security Architect, and Systems Administrator.
Work From Home (WFH) operational rules
HIPAA Audit Program
GDPR Compliance Checklist to meet EU Requirements
CCPA - California Consumer Privacy Act requirements definition
Consumer Bill of Rights
Sarbanes Oxley Section 404 Checklist
HIPPA Audit Proram
Security Audit Program- fully editable -- Comes in MS EXCEL and PDF formats -- Meets GDPR, ISO 28000, 27001, 27002, Sarbanes-Oxley, PCI-DSS, HIPAA FIPS 199, and NIS SP 800-53 requirements -- Over 400 unique tasks divided into 11 areas of audit focus which are the divided into 38 separate task groupings
Electronic forms that can be Emailed, completed via a computer or tablet, and stored electronically including: Blog Policy Compliance, BYOD Access and Use, Company Asset Employee Control Log, Email - Employee Acknowledgment, Employee Termination Checklist, FIPS 199 Assessment Electronic Form, Internet Access Request, Internet Use Approval, Internet & Electronic Communication - Employee Acknowledgment, Mobile Device Access and Use Agreement, Employee Security Acknowledgment Release, Preliminary Security Audit Checklist, Risk Assessment, Security Access Application, Security Audit Report, Security Violation Reporting, Sensitive Information Policy Compliance Agreement, Server Registration, and Threat and Vulnerability Assessment
eReader version of the Security Manual Template
BONUS - ISO 28000 Supply Chain Security Audit Program in MS EXCEL and PDF formats.
Security Manual Template - Premium Edition
Security Manual Template Standard Edition - Electronically Delivered

Security Team Job Descriptions MS Word Format

 Chief Compliance Officer (CCO); Chief Security Officer (CSO); VP Strategy and Architecture; Data Protection Officer (DPO); Director e-Commerce; Database Administrator; Data Security Administrator; Manager Data Security; Manager Facilities and Equipment; Manager Network and Computing Services; Manager Network Services; Manager Training and Documentation; Manager Voice and Data Communication; Manager Wireless Systems; Identity Management Protection Analyst, Information Security Analyst, Network Security Analyst; System Administrator - Linux, System Administrator - Unix; and System Administrator - Windows
Security Manual Template - Gold Edition
Security Manual Template Premium Edition Electronically Delivered

IT Job Descriptions MS Word Format - Updated to meet all mandated security requirements

324 Job Descriptions from the Internet and IT Job Descriptions HandiGuide in MS Word Format including all of the job descriptions in the Premium Edition. Each job description is at least 2 pages long and some of the more senior positions are up to 8 pages in length.
---
Order Security Manual Template Download sample Version History