Security Manual Template - ISO Compliant
Sarbanes Oxley / HIPAA / Patriot Act Complaint
Comes with Electronic Forms

Order Security Manual Template Download sample Version History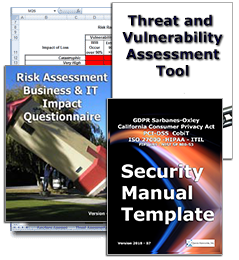 Security Manual Template ISO Compliant - Sarbanes -Oxley (SOX) requires the certification of the accuracy of the periodic reports and financial statements of ENTERPRISE by the Chief Executive Officer (CEO) and the Chief Financial Officer (CFO) of ENTERPRISE. In addition it adds the requirement that the CEO and CFO on a "rapid and current basis" disclose information that can or does materially change the financial condition of a publicly traded ENTERPRISE.
ISO/IEC 17799:2005 (which has be upgraded to ISO 22301 and ISO 2700) established guidelines and general principles for initiating, implementing, maintaining, and improving information security management in an organization. The objectives outlined provide general guidance on the commonly accepted goals of information security management. ISO/IEC 17799:2005 contains best practices of control objectives and controls in the following areas of information security management:
Security policy;
Organization of information security;
Asset management;
Human resources security;
Physical and environmental security;
Communications and operations management;
Access control; and
Information systems acquisition, development and maintenance.
All of the ISO 17799 best practices are needed to meet the objectives of SOX. This security manual template helps your enterprise to:
Understand your business requirements, outline control objectives, and perform IT risk assessments;
Analyze the IT control environment to identify gaps between internal policies and external requirements;
Create, disseminate, and document policies using a risk-based approach, track user acceptance, and manage exceptions and waiver requests; and
Translate imprecise regulatory mandates into actionable IT policies through an effective control framework.
Implement controls, policies, procedures and document operational management process to meet policy and business requirements;
Assess controls compliance for all major operating systems and identify and remediate deviations to proactively sustain the control environment; and
Maintain a secure control environment, assess security threats, and receive early warning to take proactive countermeasures.
Audit and examine the control environment on a continuing basis;
Author and publish reports to measure the effectiveness of security controls in meeting a variety of standards and regulations and demonstrate due care of compliance;
Map control information to specific policies in order to provide recommendations for improvements to the control environment; and
Collect, integrate, and retain trend analyses and evidentiary information from disparate control mechanisms for audits and documentation requests.
The Security Manual Template can be acquired as a stand alone item (Standard) or in the Premium or Gold sets:
Order DRP BCP Security Bundle Download Sample