Electronic Information Policy Prevents and Ends Abuse
Interview reveals key IT Management Best Practices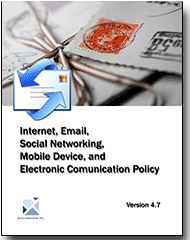 Park City, UT - In an interview today, M. Victor Janulaitis announced today the publishing of a Electronic Information Policy Guide, (EIP). Every department, in every corporation or organization needs a universal, yet comprehensive policy to safeguard the use of their computers and all related equipment and information.
In the age of information, organizations live and die on one thing, Information. "Employee abuse of communication and information costs every organization in this country money", stated Janulaitis. Therefore, implementing an understandable and enforceable policy regarding the use and misuse of information and information gathering equipment is a necessity.
  The Electronic Information Policy Guide provides clear guidelines for employees and organizations alike. It is a standard for any sized organization. It is comprehensive without being wordy or pedantic. EIP guidelines are concise and easily understood by all employees. "EIP leaves little doubt, if any, of what is acceptable and expected of an employee in regard to the information crossing his or her desk", asserted Janulaitis. "EIP is the blueprint for organizational information policy".
Order email communication Policy Download Policy Selected Pages
CIO Policies - Best Practices
The policies have just been updated to comply with all mandated requirements and include electronic forms that can be Emailed, filled out completely on the computer, routed and stored electronically -- a total solution.
We have just completed a major update of all the individual polices and all of the electronic forms.
CIO IT Infrastructure Policy Bundle (All of the policies below are included as individual MS Word files and a single PDF file. Electronic forms are all individual documents that are easily modifiable)