10 Compliance Best Practices
10 Compliance Best Practices - Compliance is a major issue that organizations of all sizes need to address. In the information technology field they range from inadvertent information disclosure to mechanized attacks on the core business infrastructure. To address these compliance issues world class organizations implement a set of best practices for their compliance programs. Janco has identified ten such best practices and they are: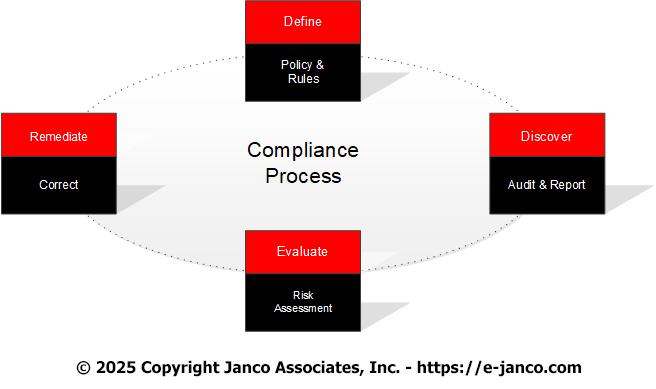 Board of Directors assumes compliance responsibility
Management communicates its importance
Management communicates its commitment to compliance
Management put in place consequences for those who do not comply
Goal is beyond compliance
Make the compliance message clear and simple
Communicate the compliance program and objectives to everyone
Provide detail policies, procedures, and  backup with training
Integrate compliance with business operations
Be prepared for a breach in compliance with processes in place to address the violations
Read On Order Compliance Management Kit Download TOC
Compliance Management Toolkit Versions
Janco offers a full range of tools to help enterprises of all sizes to address these issues. The Compliance Management kit provides the infrastructure tools
In addition to the Compliance Management White Paper we provided the The Compliance Management tool kit in three (3) versions: Silver, Gold, and Platinum.
Order Compliance Management Kit Download Selected Pages
Top 10 Reasons Cloud Solutions are Expanding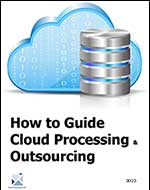 As CIOs and businesses move organizations towards cloud solutions and processing there are many benefits. The top 10 reasons that cloud processing is currently the infrastructure model of choice are:
Order Outsourcing Template Download Selected Outsourcing Pages
Pay for Usage not Capacity - Cloud-based applications mean that many of the old barriers to entry for traditional on-premise software, such as expensive infrastructure investments, heavy IT involvement and costly customizations, have been removed.


Business Continuity and Disaster Recovery - With cloud based applications data and processing power is more easily moved and operated in alternative locations.


Security is Enhanced - A cloud solution with an outside organization usually provides enterprise-grade security from physical access and virus protection through to data encryption, transfer and storage.


Compliance Requirements are More Easily Meet - In addition mandated federal requirements, there now compliance requirements in almost every state. Individual state data protection laws are unique in several ways.


ROI is Easier to Achieve - Cloud technologies remove many barriers associated with acquiring and using new and collaboration technology.


Users are in Command of Solutions - The shift to cloud has also helped usher in a new buyer.


Solutions are Scalable - As demands increase or decrease, cloud solution give the using organizations the to start small, add and consume resources as demand grows, and reduce them when demand is not there.


Fewer Obstacles and Excuses - Customer and supplier demand has increased he need to collaborate and share content across firewalls and businesses have become more of a network centric.


Version Control More Manageable - Traditional on-premise software is often hampered by long release cycles.


Access From Anywhere at Any Time - Information access across multiple computing systems and devices (including BYOD), including Windows, Apple, Linux and smartphones or tablets, is actually one of the primary reasons CIOs and businesses are moving solutions to cloud based applications.
---