Top 10 Corporate Compliance Best Practices
Top 10 Corporate Compliance Best Practices - Compliance is a major issue that organizations of all sizes need to address. In the information technology field they range from inadvertent information disclosure to mechanized attacks on the core business infrastructure. To address these compliance issues world class organizations implement a set of best practices for their compliance programs. Janco has identified ten such best practices and they are: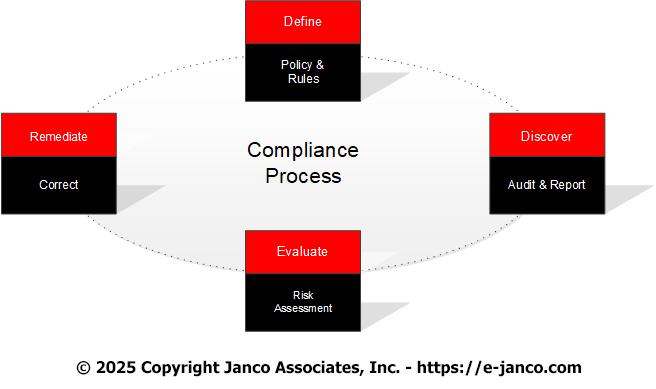 Board of Directors assumes compliance responsibility
Management communicates its importance
Management communicates its commitment to compliance
Management put in place consequences for those who do not comply
Goal is beyond compliance
Make the compliance message clear and simple
Communicate the compliance program and objectives to everyone
Provide detail policies, procedures, and  backup with training
Integrate compliance with business operations
Be prepared for a breach in compliance with processes in place to address the violations
Read On Order Compliance Management Kit Download TOC
---
10 Steps to a Compliance Program
CIOs and CSOs are now under a great deal of scrutiny not only from their executive management but also from a range of governmental and industry regulatory bodies. Janco has created a ten step program that helps them address compliance issues directly. The program, when used in concert with Janco's Compliance Management products gets them in front of the issue.
The ten step program Janco recommends is:
Implement a Security Officer Position
Conduct a compliance risk assessment
Document
Know the operating environment
Prepare for Incidents

Prevention
Detection
Correction

. Expect the worst to happen
Control media and electronic files
Train users
Log and audit
Clean up old data and system
Read On Order Compliance Management Kit Download TOC
---
Compliance Management Toolkit Versions
Janco offers a full range of tools to help enterprises of all sizes to address these issues. The Compliance Management kit provides the infrastructure tools
In addition to the Compliance Management White Paper we provided the The Compliance Management tool kit in three (3) versions: Silver, Gold, and Platinum.
Order Compliance Management Kit Download Selected Pages