IT Infrastructure Policies, Electronic Forms, Strategy and Charter
IT Management is jump started with this set of Policies, Electronic Forms and Strategy Bundle - A MUST HAVE and BEST VALUE offering


Order Infrastructure Policies Download Selected Pages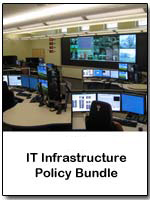 The policies in the standard bundle are: backup and backup retention; blog and personal web site; BYOD; Google Glass Policy; incident communication; Internet, e-mail, social networking, mobile device, electronic communications, and record retention; mobile device access and use; patch management - version control; outsourcing; physical and virtual server security policy; record management, retention, and destruction; sensitive information; service level agreement (SLA) with metrics; social networking; telecommuting; text messaging sensitive and confidential information and travel and off-site meeting. More information on this bundle, including a full copy of the table of contents for all 17 of the policies, can be obtained by going to Infrastructure Policies.
Enterprise IT Infrastructure Architecture Framework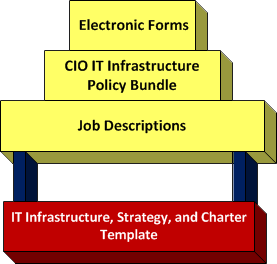 An Essential Strategic Tool for Your Enterprise and IT Team
Implementing a cost effective IT Infrastructure that aligns with your organization's business strategy is essential to ensuring the success of the Information Technology function. For many IT professionals, the amount of time it takes to develop and implement such a infrastructure, and the unknown process required to complete it, makes infrastructure design and implementation a daunting task. The IT Governance Infrastructure, Strategy, and Charter Template draws on the experiences of some of the best IT and business operations executives in the industry to provide you with the right shortcuts.
CIO IT Infrastructure Policy Bundle - Options Available
The CIO Infrastructure Policy Bundle comes in four versions - Standard, Premium, Gold, and Platinum.
Order Infrastructure Policies Download Selected Pages