Security Worries Keeping CIOs Awake
Massive new threats are faced as a result of the latest cyber attacks
This year has been a busy one for hackers targeting organizations in the US according to various tech media reports. Concern over attacks is rising sharply, particularly after Google said last year that Chinese hackers stole some of the company's source code.
Create a complete & compliant security plan that's just right for your business. Whether you manage a small business or a large enterprise, IT security is one area in which you cannot afford to miss a single detail. On top of that, new compliance regulations and best practices are being introduced frequently. All it takes is one missing element in your IT security plan to leave your business open to network attacks and operational disasters, along with the financial and legal consequences they can produce.
Comprehensive, Detailed and Customizable for Your Business
The IT Security Process Kit provides all the essential sections of a complete security manual and walks you through the creation of each step. Detailed language addressing more than a dozen security topics is included in a 200 plus page Microsoft Word document, which you can modify as much or as little as you need to fit your business requirements. The kit includes sections on critical topics like:

Risk analysis
Staff member roles
Physical security facility design, construction and operations
Media and documentation
Data and software security
Network security
Internet and IT contingency planning
Insurance
Outsourced services
Waiver procedures
Incident reporting procedures
Access control guidelines
Read on Order Security Manual Template Download sample
---
Security for Cloud Outsourcing Defined
The need to lower cost, increase efficiency and conserve cash has increased the motivation of companies to turn to Cloud Computing and increased the appeal of alternative delivery models. The disruptive shifts in new demand and supply patterns drives changes for how IT services are bought and from whom.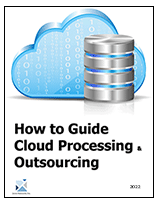 Three main security and privacy issues that need to be covered in any contract with a vendor:
Adequacy of Policies and Practices. The security and privacy policies and practices of the cloud provider might not be adequate or compatible with those of the organization. This can result in undetected intrusions or violations due to insufficient auditing and monitoring policies by the cloud provider; lack of sufficient data and configuration integrity due to a mismatch between the organization's and the cloud provider's policies for separation of duty (i.e., clear assignment of roles and responsibilities) or redundancy (i.e., having sufficient checks and balances to ensure an operation is done consistently and correctly); and loss of privacy due to the cloud provider handling sensitive information less rigorously than the organization's policy dictates.


Confidentiality and Integrity of Services. Insufficient security controls in the cloud provider's platform could affect negatively the confidentiality and privacy, or integrity of the system. For example, use of an insecure method of remote access could allow intruders to gain unauthorized access, modify, or destroy the organization's information systems and resources; to deliberately introduce security vulnerabilities or malware into the system; or to launch attacks on other systems from the organization's network, perhaps making it liable for damages.


Availability. Insufficient safeguards in the cloud provider's platform could negatively affect the availability of the system. Besides the applications directly affected, a loss of system availability may cause a conflict for key resources that are required for critical organizational operations. For example, if disruptive processing operations are performed by the cloud provider (e.g., load re-balancing due to site failure or emergency maintenance) at the same time as peak organizational processing occurs, a denial of service condition could arise. A denial of service attack targeted at the cloud provider could also affect the organization's applications and systems operating in the cloud or at the organization's data center.
The Practical Guided for Cloud Outsourcing Template includes -- Sample Cloud Outsourcing Contract along with a Service Level Agreement and other tools to facilitate the cloud  outsourcing process. The template includes Janco's exclusive Business and IT Impact Questionnaire.
Read on Order Outsourcing Template Download Selected Outsourcing Pages
---
Record Classification, Management, Retention, and Destruction policy Critical for Security


Template includes citation for federal and selected state record retention requirements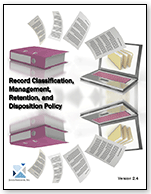 All business are required by law to keep confidential client information, as well as employee or company data for a minimum amount of time. There are numerous business records that should be held on to for a minimum of seven years, which can include employee agreements, business loan documentation, litigation records, as well as general expense reports and records including overhead expenses and professional consultation fees.
Other documents may be kept for shorter, longer or an indefinite period of time and it's important to know what legal requirements are enforced for your industry to not only stay compliant, but to also dispose of documents you may no longer need. Regularly maintaining filing cabinets and securely disposing of old documents can help minimize risk of sensitive information falling into the wrong hands. The risks of keeping old documents containing sensitive data can be high - resulting in identity theft, fraud and potential financial loss or reputation damage.
Read On Order Record Management Policy Download Selected Pages